Samsung AKK Poker Analyzer For Playing Cards Games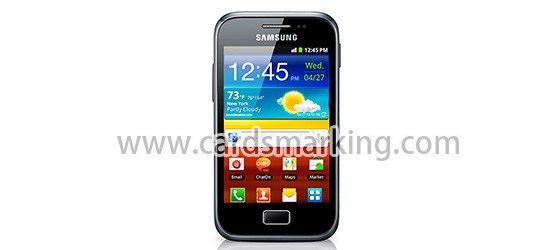 This is our new updated and latest model of Samsung poker analyzer. It is a smart mobile phone in black plastic. What is more important, it is a poker analyzer which set the local infrared camera inside it. It has more functions than the earlier Samsung 2014-2015 K3 poker analyzer.
This analyzer can be set with 3 poker games: such as Texas Holdem, Omaha 4 cards, Omaha 5 cards, high cards, report cards one by one, baccarat game and so on. You can always get the right procedure for the poker games you play.
To compare this analyzer with other earlier models, this black AKK analyzer has the following features.
There is a local built-in camera to scan barcode marked cards inside the analyzer. The scanning distance can be 25cm-40cm.
This smart mobile phone can be in all English version, you can use it to make phone calls or send messages.
There is a Bluetooth loop to connect with Bluetooth and also you can hear the results with mini earpieces.
There vibrators for you to feel the results.
There is time-mode to show you the results on the phone screen.
With so much advantages of this analyzer, you can use it for private games, poker tour, magic show or other activities so as to enjoy yourself a lot!
Product Information
Configuration:
1. 1 remote controller
2. 2 batteries or 3 batteries
3. 1 charger
Application: Poker Games
Write To Us:markedcardsinvisibleink@hotmail.com
samsung-akk-poker-analyzer.jpg
Message
Name:

Jennifer Harding

2018-10-28 01:46:18

IP: 73.112.147.20

Content:

Interested in infrared contact lenses for green eyes. Price please?

Reply:

Hi, friend. Thank you for your enquiry about contact lenses at first, i have sent a message to your Email to you, please check and replay.
Name:

Louvenia Darosa

2018-10-17 22:23:59

IP: 104.144.183.111

Content:

Hello, interested the contact lenses for brown eyes and Modiano marked cards, price?

Reply:

Hello, friend. Thank you for your enquiry about Modiano cards and contact lenses, we have sent you a Email to you, please check and reply.
Name:

Pritam

2018-10-15 15:31:11

IP: 157.43.98.200

Content:

I'm interested in the contract lens

Reply:

Friend, about the details, we already sent the message to your Whatsapp. Please check and reply, thanks