Great Bee No.92 Cambric Finish Playing Cards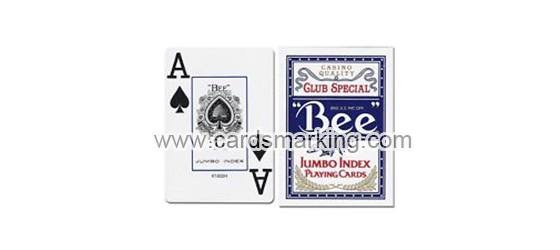 Bee Playing Cards are a casino card brand. They have been manufactured by the United States Playing Card Company since 1892. Bee No.92 Cambric Finish Jumbo Index playing cards are the preferred deck among casinos, gamblers, and serious card technicians around the world.
Their soft finish, lack of borders, and casino grade quality stock make the deck ideal for disguising false shuffles, second deals, and more. They have a unique, protective coating that makes them last a LONG time for it is coated of plastic. Every deck of Bee playing cards is 3.5 ounces at dimensions 2.6 x 0.7 x 3.5 inches. Red Bee No.92 Cambric Finish playing cards are perfect for gambling demonstrations.
Product Information
Decks: 1
Size: Standard Size
Index: Jumbo Index
Colors: Red
Material: Plastic Coated
Write To Us:markedcardsinvisibleink@hotmail.com
bee-no.92-cambric-finish-playing-cards.jpg
Message
Name:

Franz

2018-12-14 08:38:52

IP: 153.33.43.23

Content:

Hello, I would like to know the price of the contact lenses. Thank you

Reply:

Hello, friend. I have sent you a email to you about the details, please check and reply. Thanks
Name:

Lily

2018-11-26 11:11:08

IP: 117.225.53.133

Content:

How much price power bank scanner

Reply:

Thank you for your inquiry about power bank scanner, we have sent a e-mail to you for the details, please check and reply.
Name:

Jennifer Harding

2018-10-28 01:46:18

IP: 73.112.147.20

Content:

Interested in infrared contact lenses for green eyes. Price please?

Reply:

Hi, friend. Thank you for your enquiry about contact lenses at first, i have sent a message to your Email to you, please check and replay.