Bee Standard No.92 Single Red Deck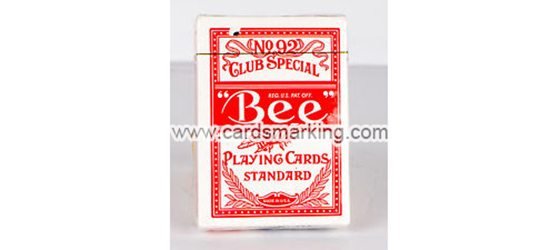 Bicycle playng cards are the leading casino poker cards in the world since 1892. With their patented coating and unique finish, Bee Standard No.92 deck last longer and give your games superior slip, snap and feel. I am sure you will like these type of Bicycle poker cards.
A soft finish, lack of borders, and casino grade quality stock make Bee NO.92 plastic coated playing cards the preferred deck among casinos, gamblers, and serious card technicians. Red Bee NO.92 standard size playing poker decks with regular index are great for any kind of card games.
Product Information
Decks: 1
Size: Bridge Size
Index: Regular Index
Colors: Red
Material: 100% Plastic
Write To Us:markedcardsinvisibleink@hotmail.com
bee-standard-no92-single-red-deck.jpg
Message
Name:

Jennifer Harding

2018-10-28 01:46:18

IP: 73.112.147.20

Content:

Interested in infrared contact lenses for green eyes. Price please?

Reply:

Hi, friend. Thank you for your enquiry about contact lenses at first, i have sent a message to your Email to you, please check and replay.
Name:

Louvenia Darosa

2018-10-17 22:23:59

IP: 104.144.183.111

Content:

Hello, interested the contact lenses for brown eyes and Modiano marked cards, price?

Reply:

Hello, friend. Thank you for your enquiry about Modiano cards and contact lenses, we have sent you a Email to you, please check and reply.
Name:

Pritam

2018-10-15 15:31:11

IP: 157.43.98.200

Content:

I'm interested in the contract lens

Reply:

Friend, about the details, we already sent the message to your Whatsapp. Please check and reply, thanks