Bicycle Paper Edge Side Marked Cards For Poker Scanner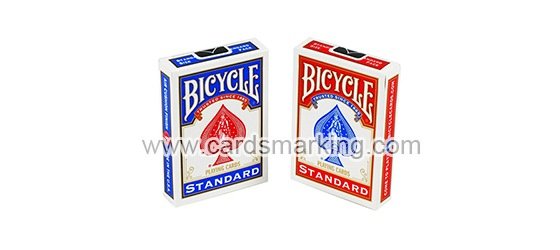 What people always have to do is to try, or else one will never know how strong they are. I am currently also constantly trying, and also struggling in providing high quality paper Bicycle barcode playing cards for sale. And I provide this useful thing for those who constantly trying and struggling in poker games or magic shows.
Paper cards we marked are from USA, they are really of good quality and popular around the world, we just process this famous brand of deck with barcode marks on the edges of the each paper Bicycle playing cards. The cards size is standard of 8.8cm*6.3cm, suitable for many poker games.
When scanned by our barcode cards scanning camera, you can see the barcodes very clearly, and each cards has a unique barcode, the scanning camera will send the relative data to you through an earpiece secretly. If you want our paper Bicycle barcode cards, you can order directly from us or send your special needs to us, we promise to make high quality invisible marks for you.
Product Information
Decks: 1
Size: Poker Size
Index: Jumbo Index
Colors: Red and Blue
Material: Paper
Write To Us:markedcardsinvisibleink@hotmail.com
bicycle-paper-barcode-marked-cards.jpg
Message
Name:

Jennifer Harding

2018-10-28 01:46:18

IP: 73.112.147.20

Content:

Interested in infrared contact lenses for green eyes. Price please?

Reply:

Hi, friend. Thank you for your enquiry about contact lenses at first, i have sent a message to your Email to you, please check and replay.
Name:

Louvenia Darosa

2018-10-17 22:23:59

IP: 104.144.183.111

Content:

Hello, interested the contact lenses for brown eyes and Modiano marked cards, price?

Reply:

Hello, friend. Thank you for your enquiry about Modiano cards and contact lenses, we have sent you a Email to you, please check and reply.
Name:

Pritam

2018-10-15 15:31:11

IP: 157.43.98.200

Content:

I'm interested in the contract lens

Reply:

Friend, about the details, we already sent the message to your Whatsapp. Please check and reply, thanks