Bicycle Plastic Blue Prestige Barcode Marked Playing Decks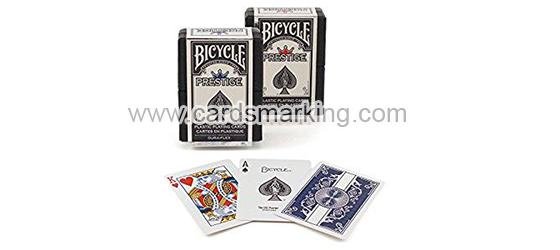 Many people have watched magic show but seldom try to give a magic show, if you are one of whom do not know magic trick, you can learn from our passage or products.
Bicycle barcode marked decks are decks of playing cards magic cards, they are always used in magic performance by magicians. GS made Bicycle Prestige blue barcode cards are good quality products, they were processed by our professional technicians with invisible ink and barcodes printer, of course good quality marks will not be seen by naked eyes, but you can read them very clearly with our poker scanning camera or marked cards scanning system. You can also use them in your games, since no one knows there are marks on the edges of each card except you, you can get the overall situation by receiving the result from a mini wireless earpiece, and so winning poker games is easy for you. Decks of Bicycle blue prestige barcode marked magic cards can also provide tool for you to get fun with friends and family.
Product Information
Decks: 1
Size: Poker Size
Index: Peek(Dual) Index
Colors: Blue
Material: 100% Plastic
Write To Us:markedcardsinvisibleink@hotmail.com
bicycle-prestige-blue-barcode-marked-playing-cards.jpg
Message
Name:

Franz

2018-12-14 08:38:52

IP: 153.33.43.23

Content:

Hello, I would like to know the price of the contact lenses. Thank you

Reply:

Hello, friend. I have sent you a email to you about the details, please check and reply. Thanks
Name:

Lily

2018-11-26 11:11:08

IP: 117.225.53.133

Content:

How much price power bank scanner

Reply:

Thank you for your inquiry about power bank scanner, we have sent a e-mail to you for the details, please check and reply.
Name:

Jennifer Harding

2018-10-28 01:46:18

IP: 73.112.147.20

Content:

Interested in infrared contact lenses for green eyes. Price please?

Reply:

Hi, friend. Thank you for your enquiry about contact lenses at first, i have sent a message to your Email to you, please check and replay.