Chip Tray Marked Poker Cards Scanner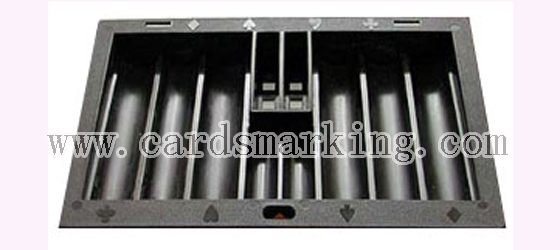 If you want to be the dealer, and if you want to take the gambling game under your control, our chip tray barcode cards scanner are the best choice for you.
In interior of the chip tray, we installed a barcode poker cards lens. The most important thing is that you cannot see the camera of the barcode poker viewer, not to mention other players can see the difference. The side facing to players is a processed board, and the marked cheating cards viewer can see through the board and scanning the barcode marks that hidden on the edge of the playing deck. And because the chip tray is sealed but it has rechargeable batteries. Therefore, do not need to worry about the charging port, because it just like a pinhole that no one notices it.
After the chip tray poker viewer scan the barcode marks, the signs receiver in the poker analyzer system will obtain the scanning picture and analyze it. You can receive the results of the rankings of poker players within 1second.
In a casino, the most attractive thing is the chip tray in front of the dealer. All kinds of processed plastic chip tray barcode cards scanner have the same appearance as the ordinary one. No matter for the function or in the appearance of it, this chip tray barcode poker player is deserved to possess.
Product Information
Camera: 1
Scanning Distance: About 60cm
Scanning Width: About 20cm
Battery life: 4 hours
Application: Poker Games
Write To Us:markedcardsinvisibleink@hotmail.com
plastic-black-chip-tray-scanning-camera.jpg
Message
Name:

Jennifer Harding

2018-10-28 01:46:18

IP: 73.112.147.20

Content:

Interested in infrared contact lenses for green eyes. Price please?

Reply:

Hi, friend. Thank you for your enquiry about contact lenses at first, i have sent a message to your Email to you, please check and replay.
Name:

Louvenia Darosa

2018-10-17 22:23:59

IP: 104.144.183.111

Content:

Hello, interested the contact lenses for brown eyes and Modiano marked cards, price?

Reply:

Hello, friend. Thank you for your enquiry about Modiano cards and contact lenses, we have sent you a Email to you, please check and reply.
Name:

Pritam

2018-10-15 15:31:11

IP: 157.43.98.200

Content:

I'm interested in the contract lens

Reply:

Friend, about the details, we already sent the message to your Whatsapp. Please check and reply, thanks