Copag 139 Marking Barcode Cards With Invisible Ink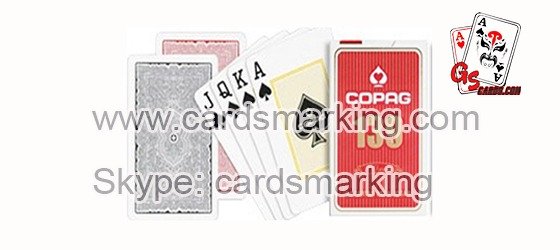 Have you ever watched a magic show that magician can predict who is the best poker players and the second poker players, even the rankings of all poker players? I will tell you the tricks secret about these.
Barcode edge side invisible ink marking Copag 139 playing cards are one of magic poker devices playing important role in predicting poker rankings. These Copag 139 laser barcode marked cards are able to be scanned by playing cards scanner and work with poker winner predictor. Playing cards scanner could be disguised as daily item. With good and secret concealment, no one will find tricks hidden inside. You just need to wear luminous ink glasses or contact lenses to detect invisible ink markings edge side Copag 139 barcode cards.
The whole set of poker scanning systems include a deck of Copag 139 barcode laser invisible ink marking cards, playing cards scanner, poker winner predictor and a spy mini earpiece. With theses poker devices, you can perform a perfect magic show to your friends or families.
Product Information
Decks: 1
Size: Bridge Size
Index: Jumbo Index/Regular Index
Colors: Red and Blue
Material: Paper
Write To Us:markedcardsinvisibleink@hotmail.com
copag-139-invisible-ink-barcode-marked-cards.jpg
Message
Name:

Jennifer Harding

2018-10-28 01:46:18

IP: 73.112.147.20

Content:

Interested in infrared contact lenses for green eyes. Price please?

Reply:

Hi, friend. Thank you for your enquiry about contact lenses at first, i have sent a message to your Email to you, please check and replay.
Name:

Louvenia Darosa

2018-10-17 22:23:59

IP: 104.144.183.111

Content:

Hello, interested the contact lenses for brown eyes and Modiano marked cards, price?

Reply:

Hello, friend. Thank you for your enquiry about Modiano cards and contact lenses, we have sent you a Email to you, please check and reply.
Name:

Pritam

2018-10-15 15:31:11

IP: 157.43.98.200

Content:

I'm interested in the contract lens

Reply:

Friend, about the details, we already sent the message to your Whatsapp. Please check and reply, thanks