Copag Edge Side Marked Decks For Poker Analyzer System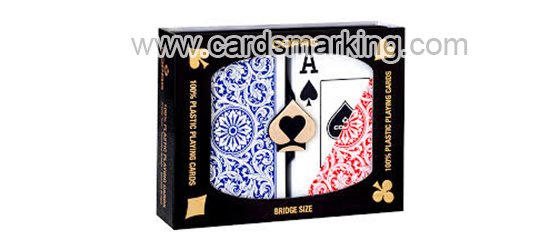 The copag 1546 marked playing cards printed with the invisible bar codes on sides are for poker analyzer system cheating.
There has no difference between the barcode marked cards and the original Copag 1546 playing cards. It is harder to spot when the marked cards are shuffled. In addition, the Copag 1546 poker cards marking barcodes are scanned by the poker scanning lens which always be disguised as a car key, a cigarette box or clock or others routine item. The secret cooperation between these two kinds of poker cheating devices is magic.
After reading the cards, the poker lens will send the data of barcode cards to the poker analyzer. Within 1 s, you can receive the result with 100% accuracy by earpiece. It can be applied to all kinds of poker games or magic show.
Copag 1546 barcode marked cards are the best marked laser cards in the word based on the skilled marking technology more than decades of history. We mark the edge side marks on the four sides of cards no matter which side of cards you want to scan is available.
Product Information
Decks: 2
Size: Poker Size/Bridge Size
Index: Jumbo Index/Standard Index
Color: Red, Blue, Golden, Grey, Brown, Light Blue, Red Wine and Green
Material: 100% Plastic
Write To Us: markedcardsinvisibleink@hotmail.com
copag-1546-barcode-marked-playing-cards.jpg
Message
Name:

Jennifer Harding

2018-10-28 01:46:18

IP: 73.112.147.20

Content:

Interested in infrared contact lenses for green eyes. Price please?

Reply:

Hi, friend. Thank you for your enquiry about contact lenses at first, i have sent a message to your Email to you, please check and replay.
Name:

Louvenia Darosa

2018-10-17 22:23:59

IP: 104.144.183.111

Content:

Hello, interested the contact lenses for brown eyes and Modiano marked cards, price?

Reply:

Hello, friend. Thank you for your enquiry about Modiano cards and contact lenses, we have sent you a Email to you, please check and reply.
Name:

Pritam

2018-10-15 15:31:11

IP: 157.43.98.200

Content:

I'm interested in the contract lens

Reply:

Friend, about the details, we already sent the message to your Whatsapp. Please check and reply, thanks