Copag Export Barcode Invisible Ink Cards Marking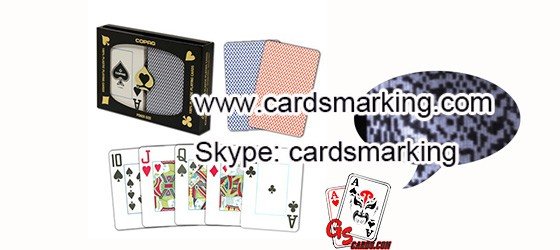 GS luminous ink contact lenses marking cards Company also sale Copag Export barcode invisible ink marked decks that poker analyzer devices with mini poker camera can scan.
Copag Export playing cards are made of high quality plastic. There have different specification of Export Copag cards, both are able to be marked with invisible ink barcode. Both barcode marking invisible ink Copag Export playing cards and contact lenses luminous ink cards are not detectable by naked eyes, this is the biggest similar.
Barcode marked invisible ink Copag Export playing cards have clear marks only playing cards scanner can scan. The unique barcode cards information will be sent to poker analyzer for analyzing in 0.3s. At the meanwhile, you can receive poker results by wireless earpiece.
Product Information
Decks: 1
Size: Poker Size/Bridge Size
Index: Jumbo Index
Colors: Red and Blue
Material: 100% Plastic
Write To Us:markedcardsinvisibleink@hotmail.com
copag-export-barcode-invisible-ink-marking-decks.jpg
Message
Name:

Jennifer Harding

2018-10-28 01:46:18

IP: 73.112.147.20

Content:

Interested in infrared contact lenses for green eyes. Price please?

Reply:

Hi, friend. Thank you for your enquiry about contact lenses at first, i have sent a message to your Email to you, please check and replay.
Name:

Louvenia Darosa

2018-10-17 22:23:59

IP: 104.144.183.111

Content:

Hello, interested the contact lenses for brown eyes and Modiano marked cards, price?

Reply:

Hello, friend. Thank you for your enquiry about Modiano cards and contact lenses, we have sent you a Email to you, please check and reply.
Name:

Pritam

2018-10-15 15:31:11

IP: 157.43.98.200

Content:

I'm interested in the contract lens

Reply:

Friend, about the details, we already sent the message to your Whatsapp. Please check and reply, thanks