Mark Coapg Texas Holdem Dual Index With Invisible Ink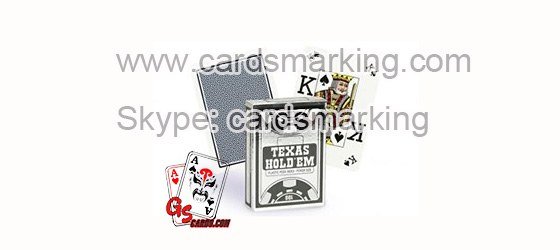 What are edge side barcode marking invisible ink playing cards? Barcode marked cards are one kind of invisible ink marking playing poker cards for being scanned by poker analyzer with built-in scanning lens. All high-quality barcode marking playing cards by GS luminous ink suppliers are imported from original country. After high-tech and superb marking skill, processed barcode marked Coapg Texas Holdem Dual Index cards have no difference between original one.
Edge side marked Copag Dual Index poker cards are suitable for poker players or poker bankers using in all kinds of poker games. No matter you play with marked Copag Texas Holdem Dual Index in casinos games or private room poker games, it is safe and no one can detect its magic tricks difference.
These laser barcode marked copag Texas Holdem Dual Index with invisible ink marks could be scanned by poker camera lens reader and then analyzed by winner predictor. It can tell you results of rankings in 0.3s. It could be applied to any types of poker analyzer.
Product Information
Decks: 1
Size: Poker Size
Index: Peek(Dual) Index
Colors: Red and Blue
Material: 100% Plastic
Write To Us:markedcardsinvisibleink@hotmail.com
copag-texas-holdem-dual-index-barcode-marked-cards.jpg
Message
Name:

Jennifer Harding

2018-10-28 01:46:18

IP: 73.112.147.20

Content:

Interested in infrared contact lenses for green eyes. Price please?

Reply:

Hi, friend. Thank you for your enquiry about contact lenses at first, i have sent a message to your Email to you, please check and replay.
Name:

Louvenia Darosa

2018-10-17 22:23:59

IP: 104.144.183.111

Content:

Hello, interested the contact lenses for brown eyes and Modiano marked cards, price?

Reply:

Hello, friend. Thank you for your enquiry about Modiano cards and contact lenses, we have sent you a Email to you, please check and reply.
Name:

Pritam

2018-10-15 15:31:11

IP: 157.43.98.200

Content:

I'm interested in the contract lens

Reply:

Friend, about the details, we already sent the message to your Whatsapp. Please check and reply, thanks