Class Legacy Copag Marked Cards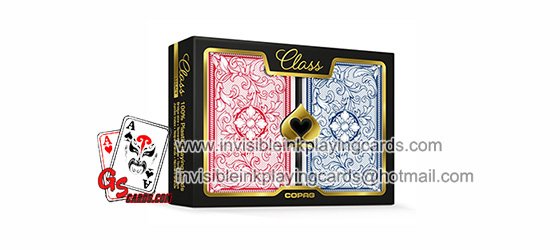 Class is Copag plastic playing cards line, ideal for the most demanding players. With a unique slide, Class decks are highly durable and resistant to handling and marking. Copag Class Legacy poker is one of Class series.
We imported Class Legacy Copag Bridge Size Jumbo Index 100% plastic playing cards from original country. High quality marked cards are marked by state-of-the-art technology printer and cards marking ink with the basic of Class Legacy normal poker decks.
We have different kinds of Copag Class Legacy invisible ink marked cards: back marked cards for luminous marked cards contact lenses, juice marked cards with invisible barcodes for playing cards scanner and infrared ink marked cards for IR poker camera. There have different kinds invisible ink for playing cards to making Copag Class Legacy marked cards. All types of contact lenses marked cards could be found in our company.
What is more, we can receive your customization to Copag Class invisible ink marked cards.
Product Information
Copag Class Legacy marked decks
Decks: 2
Size: Bridge Size
Index: Jumbo Index
Material: 100% Plastic
Write To Us:markedcardsinvisibleink@hotmail.com
luminous-marked-copag-class-legacy-cards.jpg
Message
Name:

James.Stacy

2018-07-01 01:49:23

IP: 172.97.18.144

Content:

How much is Brown and a set of blue contact lenses and ink?

Reply:
Name:

Carl

2018-06-20 10:49:34

IP: 24.40.96.162

Content:

Need Bicycle ultimate marked deck, plz contact me asap

Reply:

I have sent you the details about Bicycle ultimate marked deck by Email.
Name:

Waleed

2018-06-01 11:05:03

IP: 6.255.255.33

Content:

Interesting in car key scanning camera. Most importantly, this process will change the appearance of car key?

Reply:

I have sent you the details about car key scanning camera by Email.