Copag Export Invisible Ink Marked Poker Cards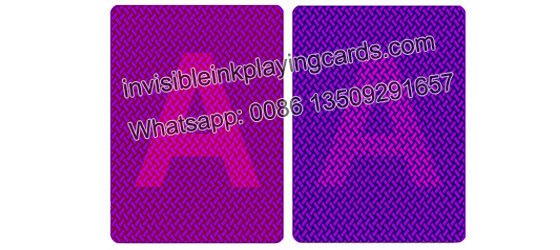 Copag Export poker cards are 100% plastic playing cards which can last for years. Copag Export cards have the numbers and pips on four corners of the cards, this design make you easier to view it when it face down. Marked cards are the directly tools help you succeed in poker game.
In this world, some light is visible, some light is invisible. IR belongs to invisible light. Infrared also divided into near infrared and far infrared. Infrared can be applied to the poker marked cards, poker infrared camera. It can change the normal Copag Export cards to be Copag Export marked cards. It can be detected by infrared camera, so you can see the marked poker cards like see the face of playing cards.
IR lens has wide range of applications, it can be as IR corresponding to special purposes, it also can be used as a normal lens. In other words, according to different occasions, the special infrared camera can be flexibly used with normal infrared camera.
Near Infrared on the use of poker is very broad, and there are a lot of poker manufacturers have mastered this technique. The far-infrared can be applied to the one to one marked playing cards, others can not detect your card, only your own poker camera machine can detect your processed cards.
Product Information
Decks: 1
Size: Poker Size, Bridge Index
Index: Jumbo Index, Regular Index
Colors: Red and Blue
Material: 100% Plastic
Write To Us:markedcardsinvisibleink@hotmail.com
copag-export-marked-playing-cards.jpg
Message
Name:

alvi ahmed

2017-11-07 22:11:46

IP: 43.229.211.146

Content:

i want to buy x ray vission lens or glasses to read the cards without being marked.... plz send me details

Reply:

I have sent you the details about x ray vission lens or glasses to read the cards by email.
Name:

josef reinisch

2017-11-05 20:23:09

IP: 77.119.128.114

Content:

preis für black jack systeam

Reply:

Ich habe Ihnen die Details zum Blackjack-System per E-Mail zugeschickt.
Name:

Yogesh Raghav

2017-11-04 17:56:09

IP: 49.34.184.229

Content:

I want to buy a real x-ray vision glass.will u please send the quote?

Reply:

I have sent you the details about x-ray glasses by email.
Name:

Jean

2017-11-03 00:46:56

IP: 92.83.144.129

Content:

hello...i woul like more information about this kind of product.thank you

Reply:

I have sent you the details by email.
Name:

randy

2017-11-01 02:02:49

IP: 70.70.102.80

Content:

i would like to order silver glasses with 2 decks of cards how can I do this

Reply:

I have sent you the details about decks of cards and silver glasses by email.