Invisible Ink Marked Cards Copag Neo Culture Poker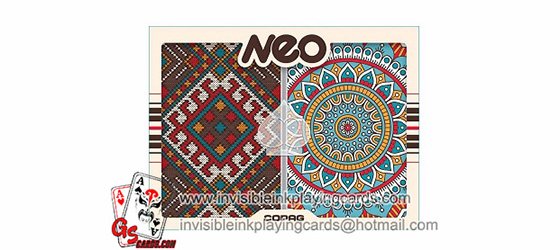 Copag Neo Culture Jumbo index playing cards are filled with art and magic. We all fall in love with this high quality Copag plastic cards.
How to mark Copag Neo Culture cards with invisible ink? There has the best way to mark cards, which is the invisible ink playing cards printer. High technology printing equipment can produce the clear luminous marked cards in mass. Besides invisible ink to mark cards, there have infrared ink or luminous ink.
All kinds of Neo Culture Copag marked cards are processed on the original Copag Bridge size cards. The invisible ink marks can stay on the back of Neo Culture infrared marked cards about 2 years if you keep them well.
Product Information
Copag Neo Culture marked decks
Decks: 2
Size: Bridge Size
Index: Jumbo Index
Material: 100% Plastic
Write To Us:markedcardsinvisibleink@hotmail.com
copag-neo-culture-luminous-marked-cards.jpg
Message
Name:

Cristian

2018-05-21 19:00:57

IP: 92.40.248.224

Content:

Hello, I'd like to ask how much these cards cost and how much for the contact lenses. Also, how difficult is it for the cards to be detected. Thanks

Reply:
Name:

Destiny

2018-05-18 20:36:24

IP: 78.144.198.184

Content:

I would like to enquire about the price of the ultimate infrared contact lenses, how I would purchase them and if they also are able to read all types of invisible ink and if I can also obtain an invisible ink pen. Would they also work to pick up invisible ink on white cards?

Reply:

I have sent you the details about ultimate infrared contact lenses price and invisible ink pen by Email.
Name:

Diego

2018-05-07 10:50:03

IP: 66.128.223.26

Content:

Hello, whats the price of invisible ink pen with glasses?

Reply:

I have sent you the details about invisible ink pen with glasses by Whatsapp.