Invisible Ink For Playing Cards Copag 4PIP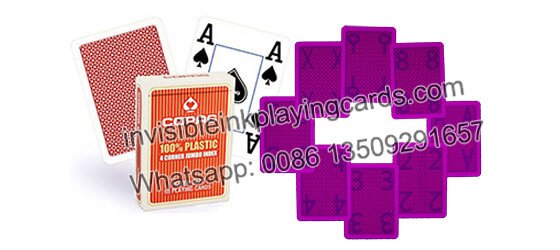 What is the infrared marked decks of cards? How to see through the infrared marked deck? The principle of infrared marked decks is very simple, it is made of the ordinary deck of cards with special infrared invisible ink. Infrared marked deck of poker cards can provide you a clear effect, it is suitable to be used whether it is the day or night.
Copag 4PIP 100% plastic infrared marked cards is one of the popular infrared marked cards. Once the normal Copag 4 PIP playing cards is printed with the infrared invisible ink, only the infrared camera and luminos ink contact lens can identify it. We can offer you the red and blue Copag 4PIP marked deck of playing cards.
Now there are many kind of poker contact lenses on the market, different contact lens is used to detect different special marked cards. Special marked cards need to work with special invisible ink contact lenses. In fact, special contact lenses is not like the words of some marked cards suppliers that can see through all kind of playing cards. No matter from which aspect, it is impossible, so far in the world, we have not reach such a technique yet.
How to see through the infrared marked deck? Exactly, the naked eyes can not see through the infrared ink marks, in addition to wearing the corresponding infrared glasses, there is no way can make it. This is the reason that many players dare to use this infrared marked decks.
Product Information
Decks: 1
Size: Poker Size
Index: Peek(Dual) Index
Colors: Red and Blue
Material: 100% Plastic
Write To Us:markedcardsinvisibleink@hotmail.com
perspective-copag-4pip-marked-playing-cards.jpg
Message
Name:

Cristian

2018-05-21 19:00:57

IP: 92.40.248.224

Content:

Hello, I'd like to ask how much these cards cost and how much for the contact lenses. Also, how difficult is it for the cards to be detected. Thanks

Reply:
Name:

Destiny

2018-05-18 20:36:24

IP: 78.144.198.184

Content:

I would like to enquire about the price of the ultimate infrared contact lenses, how I would purchase them and if they also are able to read all types of invisible ink and if I can also obtain an invisible ink pen. Would they also work to pick up invisible ink on white cards?

Reply:

I have sent you the details about ultimate infrared contact lenses price and invisible ink pen by Email.
Name:

Diego

2018-05-07 10:50:03

IP: 66.128.223.26

Content:

Hello, whats the price of invisible ink pen with glasses?

Reply:

I have sent you the details about invisible ink pen with glasses by Whatsapp.