Copag 4 Corner Plastic Playing Poker Cards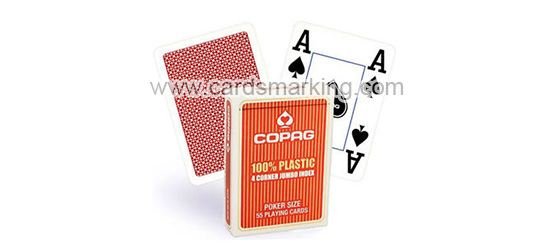 Description
A pretty and simple poker card of high quality with jumbo indexes in each of its 4 corners for extra visibility on all tables and in all circumstances. These poker size cards are available with a blue or red back which has 4 Corner Jumbo Index.
Copag, the best tournament playing cards in the world, bring you a luxurious poker deck, specifically designed with larger cards to suit players of this phenomenally popular poker game. With these 63mm x 88mm cards in poker size you can capture the Las Vegas feeling, and master the favorite card game.

Product Information
Decks: 1
Size: Poker Size
Index: Jumbo Index
Colors: Red and Black
Material: 100% Plastic
Write To Us:markedcardsinvisibleink@hotmail.com
copag-4-corner-jumbo-index-playing-cards.jpg
Message
Name:

Jennifer Harding

2018-10-28 01:46:18

IP: 73.112.147.20

Content:

Interested in infrared contact lenses for green eyes. Price please?

Reply:

Hi, friend. Thank you for your enquiry about contact lenses at first, i have sent a message to your Email to you, please check and replay.
Name:

Louvenia Darosa

2018-10-17 22:23:59

IP: 104.144.183.111

Content:

Hello, interested the contact lenses for brown eyes and Modiano marked cards, price?

Reply:

Hello, friend. Thank you for your enquiry about Modiano cards and contact lenses, we have sent you a Email to you, please check and reply.
Name:

Pritam

2018-10-15 15:31:11

IP: 157.43.98.200

Content:

I'm interested in the contract lens

Reply:

Friend, about the details, we already sent the message to your Whatsapp. Please check and reply, thanks