High Quality Deck Of Cards Copag Summer Edition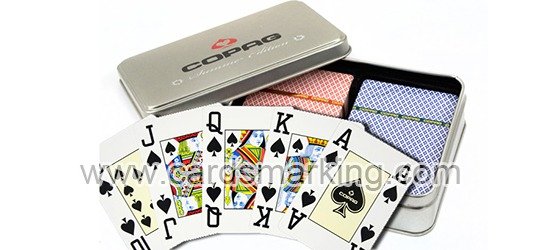 Description
In 2008, in order to celebrate the 100 years this monumental event, Copag released a limited edition commemorative Four Seasons plastic playing card sets: Copag Spring Edition, Copag Summer Edition, Copag Fall Edition, Copag Winter Edition.
Copag Summer Edition Double Deck comes complete in a tin box. It is poker size with 4 Corner Jumbo index in four corners.
Copag Summer Edition sets are 100% plastic which means that they are far more durable and will last much longer than regular plastic coated playing cards. COPAG Summer Edition plastic playing cards are made from a exclusively engineered PVC plastic. These cards can handle the tear of normal games, outlasting paper cards up to 500 times. Completely washable, you do not need to worry about soiled cards. A quick wipe with a damp washcloth, then dry and they are ready to go. 1 deck of red cards and 1 deck of blue cards Summmer Edition playing cards are packaged in durable metal Copag storage case.
Product Information
Decks: 2
Size: Poker Size
Index: 4 Corner Jumbo Index
Colors: Red and Black
Material: 100% Plastic
Write To Us:markedcardsinvisibleink@hotmail.com
copag-summer-edition-playing-cards.jpg
Message
Name:

Franz

2018-12-14 08:38:52

IP: 153.33.43.23

Content:

Hello, I would like to know the price of the contact lenses. Thank you

Reply:

Hello, friend. I have sent you a email to you about the details, please check and reply. Thanks
Name:

Lily

2018-11-26 11:11:08

IP: 117.225.53.133

Content:

How much price power bank scanner

Reply:

Thank you for your inquiry about power bank scanner, we have sent a e-mail to you for the details, please check and reply.
Name:

Jennifer Harding

2018-10-28 01:46:18

IP: 73.112.147.20

Content:

Interested in infrared contact lenses for green eyes. Price please?

Reply:

Hi, friend. Thank you for your enquiry about contact lenses at first, i have sent a message to your Email to you, please check and replay.