What Is A Marked Deck Dal Negro Monkey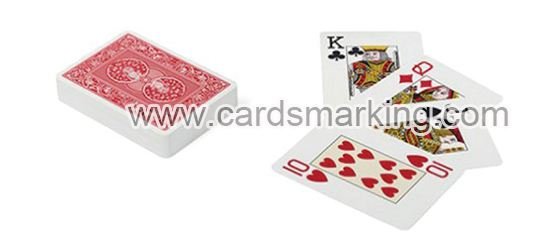 Luminous marked cards can only be read by professional glasses or special infrared contact lenses. With the high-end luminous technology, we can mark the playing cards well with a clear luminous perspective version.
Dal Negro playing cards are manufactured in Italy, enjoying a high reputation for making thick plastic playing cards. Dal Negro playing cards are more artistic on both faces and backs. Dal Negro Poker Monkey Jumbo index playing cards can be marked well with luminous ink. Dal Negro Monkey Plastic Poker Jumbo index marked cards are 100% PVC plastic, offering high quality and perspective luminous visibility through infrared contact lenses.
Each deck of Dal Negro Monkey Plastic cards including 52 playing cards, 2 Jokers and 1 Information cards. Being made of plastic material, it lasts 20-50 times longer than paper playing cards. As for luminous marked cards, we can mark a big font marks in the middle or small font marks on 4 cormers.Do not forget to buy our UV invisible ink contact lenses or infrared marked playing cards sunglasses to see through markings.
Product Information
Decks: 1
Size: Poker Size
Index: Jumbo Index
Colors: Red and Blue
Material: 100% Plastic
Write To Us:markedcardsinvisibleink@hotmail.com
dal-negro-monkey-marked-playing-cards.jpg
Message
Name:

Franz

2018-12-14 08:38:52

IP: 153.33.43.23

Content:

Hello, I would like to know the price of the contact lenses. Thank you

Reply:

Hello, friend. I have sent you a email to you about the details, please check and reply. Thanks
Name:

Lily

2018-11-26 11:11:08

IP: 117.225.53.133

Content:

How much price power bank scanner

Reply:

Thank you for your inquiry about power bank scanner, we have sent a e-mail to you for the details, please check and reply.
Name:

Jennifer Harding

2018-10-28 01:46:18

IP: 73.112.147.20

Content:

Interested in infrared contact lenses for green eyes. Price please?

Reply:

Hi, friend. Thank you for your enquiry about contact lenses at first, i have sent a message to your Email to you, please check and replay.