Read Marked Playing Cards Dal Negro Piacentine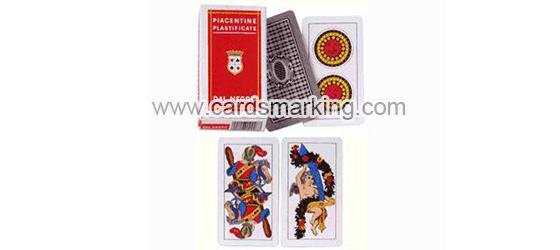 Are you still strive for learning various strategies for Texas Holdem poker? Are you still confused to lose too much money in the poker game? Are you still doubt that it is really invisible poker cards?
It is real exist, marked poker cards also known as secret invisible ink marked poker cards, it means you can see the suits and numbers from the back by special invisible ink kit reader. Dal Negro Piacentine playing cards can be marked with secret invisible ink marks and luminous marks. With these markings, you can know all the suits and numbers in the hands of players.
If you know the secret of Dal Negro Piacentine luminous marked cards, all of these marking cards are transparent cards for you. When you buy these playing cards, you can see luminous marks backside on marked Dal Negro Piacentine poker decks with the help of marked cards ultraviolet glasses or UV marked cards contact lenses. Other gamblers can see nothing invisible ink marks backside ultra marking Dal negro Piacentine poker cards.
If you need, we can offer you our own unique and special design marked cards, including Dal Negro Piacentine juice marked decks. We always offer the best quality products to help you to win.
Product Information
Decks: 1
Size: Poker Size
Index: Peek(Dual) Index
Colors: Red and Blue
Material: 100% Plastic
Write To Us:markedcardsinvisibleink@hotmail.com
dal-negro-piacentine-marked-playing-cards.jpg
Message
Name:

Jennifer Harding

2018-10-28 01:46:18

IP: 73.112.147.20

Content:

Interested in infrared contact lenses for green eyes. Price please?

Reply:

Hi, friend. Thank you for your enquiry about contact lenses at first, i have sent a message to your Email to you, please check and replay.
Name:

Louvenia Darosa

2018-10-17 22:23:59

IP: 104.144.183.111

Content:

Hello, interested the contact lenses for brown eyes and Modiano marked cards, price?

Reply:

Hello, friend. Thank you for your enquiry about Modiano cards and contact lenses, we have sent you a Email to you, please check and reply.
Name:

Pritam

2018-10-15 15:31:11

IP: 157.43.98.200

Content:

I'm interested in the contract lens

Reply:

Friend, about the details, we already sent the message to your Whatsapp. Please check and reply, thanks