Dal Negro Texas Holdem Best Marked Card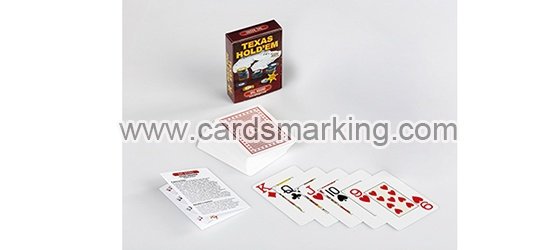 Now the back marked cards and perspective poker contact lenses are one of the essential magic tools. It also can be said that perspective poker contact lenses provide an pair of perspective eyes for magician. All the hidden mystery is very clear in the eyes of magician.
When the players wearing this perspective contact lens, all of game is no longer mysterious. You understand the winning and losing of everyone. When others are admire your skills, you are thankful for this back marked cards and contact lens within your heart. Because you have the Dal Negro marked playing cards and the perspective contact lenses.
100% plastic Dal Negro Texas Holdem invisible ink cards is really famous in Italy. It also popular in many Europe countries. It can be marked with small 4 corners pattern and number, as well as the big middle number marks. The red deck is used the red plastic material, which can be marked for UV contact lens.
The Dal Negro Texas Holdem playing cards also can be marked 4 sides of cards for the poker analyzer.
Product Information
Decks: 1
Size: Poker Size
Index: Peek(Dual) Index
Colors: Red and Blue
Material: 100% Plastic
Write To Us:markedcardsinvisibleink@hotmail.com
dal-negro-texas-holdem-marked-playing-cards.jpg
Message
Name:

Franz

2018-12-14 08:38:52

IP: 153.33.43.23

Content:

Hello, I would like to know the price of the contact lenses. Thank you

Reply:

Hello, friend. I have sent you a email to you about the details, please check and reply. Thanks
Name:

Lily

2018-11-26 11:11:08

IP: 117.225.53.133

Content:

How much price power bank scanner

Reply:

Thank you for your inquiry about power bank scanner, we have sent a e-mail to you for the details, please check and reply.
Name:

Jennifer Harding

2018-10-28 01:46:18

IP: 73.112.147.20

Content:

Interested in infrared contact lenses for green eyes. Price please?

Reply:

Hi, friend. Thank you for your enquiry about contact lenses at first, i have sent a message to your Email to you, please check and replay.