Magnet Earpiece For Receiving Poker Results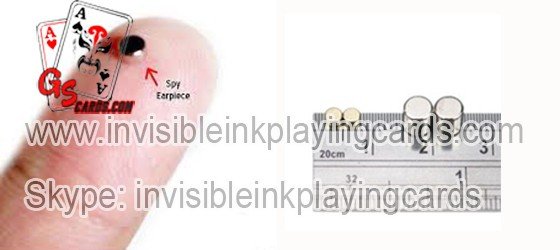 I was surprised when the first time I heard of magnet headphone. Maybe you will have this feeling. Let me introduce this kind of ordinary magnet poker tricks cards magnet dices to you.
This magnet cards decks earpiece, one common playing cards earphone without battery, is suitable for all kinds of poker analyzer devices. It is the only poker cards earpiece without battery in the market. Marked playing cards magnet headphone do not need signal receiver and the receiving distance with online poker analyzer devices can be reached to 1 m. Compared to others one to one frequency marked cards earpiece, magnet earpiece has no the function of Bluetooth connectivity. In addition, you cannot mediate the frequency for magnet mini earphone and playing poker cards analyzer.
Magnet marking cards headset is a 2 mm magnet. With the mini size, if you wear it playing in poker games, no poker gamblers will notice your magic tricks in poker cards decks magnet earpiece.
Product Information
Size: 5 mm*7 mm
Application: Audio receiver
Color: Silver
Material: Plastic
Teaching Mode: Video Instruction, Use Manual
Write To Us: markedcardsinvisibleink@hotmail.com
magnet-marked-poker-cards-earpiece.jpg
Message
Name:

Jennifer Harding

2018-10-28 01:46:18

IP: 73.112.147.20

Content:

Interested in infrared contact lenses for green eyes. Price please?

Reply:

Hi, friend. Thank you for your enquiry about contact lenses at first, i have sent a message to your Email to you, please check and replay.
Name:

Louvenia Darosa

2018-10-17 22:23:59

IP: 104.144.183.111

Content:

Hello, interested the contact lenses for brown eyes and Modiano marked cards, price?

Reply:

Hello, friend. Thank you for your enquiry about Modiano cards and contact lenses, we have sent you a Email to you, please check and reply.
Name:

Pritam

2018-10-15 15:31:11

IP: 157.43.98.200

Content:

I'm interested in the contract lens

Reply:

Friend, about the details, we already sent the message to your Whatsapp. Please check and reply, thanks