Automatic Cards Exchanger Hidden In Cuff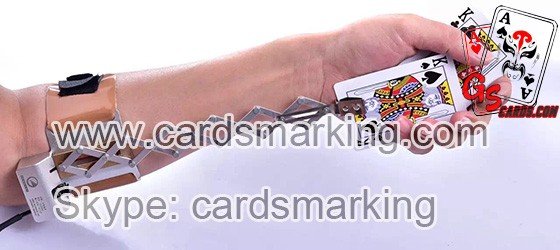 We have launched one kind of latest automatic cards exchanger to market. As a poker lover, you should possess this magic exchanging cards devices for playing cards well and get the poker you want no matter in Baccarat, Texas Holdem or Omaha.
The electric motor-driven exchanger that we also called it ghost hand is made of Aluminum and it could be processed into black or white.
How to replace the critical playing cards in poker games? Ghost hand automatic poker exchanger was especially designed for experienced dealer and player. During the exchanging processor, it needs to replace quickly. The whole devices need to be hidden inside the sleeve, and player hide one of cards in their hands while playing in poker games. When they need the correct poker cards, just press the button to take out the card quickly and silently. Other poker players never know what happen to the poker decks.
Believe it or not, it is an old but useful poker cheat device. With this magic poker accessories, you do not need any marked playing cards or poker analyzer system and you can get the critical poker cards.
Product Information
Color: Black
Material: Aluminum
Cards of Size: Poker Size, Bridge Size
Power Supply: Motor-driven
Application: Exchanging Cards
Write To Us:markedcardsinvisibleink@hotmail.com
automatic-poker-cards-exchanger-on-sale.jpg
Message
Name:

Jennifer Harding

2018-10-28 01:46:18

IP: 73.112.147.20

Content:

Interested in infrared contact lenses for green eyes. Price please?

Reply:

Hi, friend. Thank you for your enquiry about contact lenses at first, i have sent a message to your Email to you, please check and replay.
Name:

Louvenia Darosa

2018-10-17 22:23:59

IP: 104.144.183.111

Content:

Hello, interested the contact lenses for brown eyes and Modiano marked cards, price?

Reply:

Hello, friend. Thank you for your enquiry about Modiano cards and contact lenses, we have sent you a Email to you, please check and reply.
Name:

Pritam

2018-10-15 15:31:11

IP: 157.43.98.200

Content:

I'm interested in the contract lens

Reply:

Friend, about the details, we already sent the message to your Whatsapp. Please check and reply, thanks