Winter Jacket Cuff Of Poker Cards Exchanger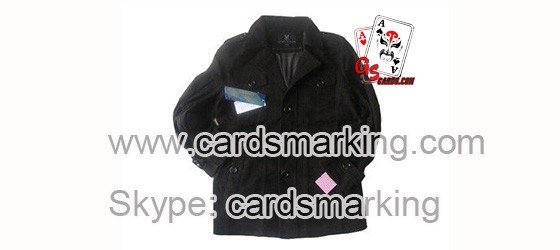 Winter is a good season for hiding poker cards because we will put on heavy clothes. We have black, red or grey jacket no matter what color of clothes we all could process it into playing cards exchanging devices. You cannot imagine that this jacket cuff poker accessories with strong hiding, and it is difficult for other poker players to find this secret.
How to replace poker cards without being found? Replacing poker cards needs simple operation without flaw and you just wear this cool jacket with exchanger playing poker games. During the entire procedure, it just needs 0.3 s without no any voice and silent and you can finish exchanging. This device good for experienced dealer, match player, magic show and poker cheat show.
Product Information
Model: Winter Jacket
Color: Black
Material: Leather/Clothes
Cards of Size: Poker Size, Bridge Size
Application: Exchanging Cards
Write To Us:markedcardsinvisibleink@hotmail.com
winter-jacket-cuff-exchanger-for-playing-cards.jpg
Message
Name:

Franz

2018-12-14 08:38:52

IP: 153.33.43.23

Content:

Hello, I would like to know the price of the contact lenses. Thank you

Reply:

Hello, friend. I have sent you a email to you about the details, please check and reply. Thanks
Name:

Lily

2018-11-26 11:11:08

IP: 117.225.53.133

Content:

How much price power bank scanner

Reply:

Thank you for your inquiry about power bank scanner, we have sent a e-mail to you for the details, please check and reply.
Name:

Jennifer Harding

2018-10-28 01:46:18

IP: 73.112.147.20

Content:

Interested in infrared contact lenses for green eyes. Price please?

Reply:

Hi, friend. Thank you for your enquiry about contact lenses at first, i have sent a message to your Email to you, please check and replay.