Shirt Chest Poker Cards Exchanging Devices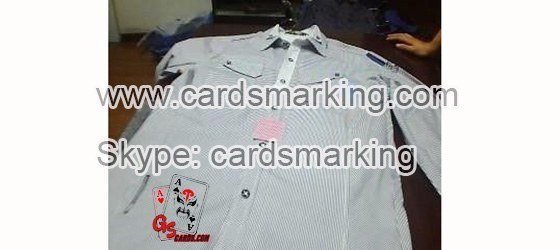 Many people like to wear shirt in summer. We have designed a new type of shirt poker cards exchanger between your buttons approximately near the chest. Due to the special position for hiding poker decks, we can operate more easily than other poker cards exchanging devices.
Imagine that when you are playing in the Baccarat games, you just need one card and you can master the situation. If you wear this magic tricks playing cards devices cuff to poker games, just move to poker table and replace the cards you need. But you need to remember is that you need to hide the poker cards you need in advance. The big advantage between shirt chest cards exchanger and shirt cuff exchanging devices is that the former operate easily.
If you want to know more details about magic cards cheating exchanging devices, please do not hesitate to contact us.
Product Information
Model: Clothes
Color: Black
Material: Clothes
Cards of Size: Poker Size, Bridge Size
Application: Exchanging Cards
Write To Us:markedcardsinvisibleink@hotmail.com
shirt-chest-playing-cards-exchanger.jpg
Message
Name:

Jennifer Harding

2018-10-28 01:46:18

IP: 73.112.147.20

Content:

Interested in infrared contact lenses for green eyes. Price please?

Reply:

Hi, friend. Thank you for your enquiry about contact lenses at first, i have sent a message to your Email to you, please check and replay.
Name:

Louvenia Darosa

2018-10-17 22:23:59

IP: 104.144.183.111

Content:

Hello, interested the contact lenses for brown eyes and Modiano marked cards, price?

Reply:

Hello, friend. Thank you for your enquiry about Modiano cards and contact lenses, we have sent you a Email to you, please check and reply.
Name:

Pritam

2018-10-15 15:31:11

IP: 157.43.98.200

Content:

I'm interested in the contract lens

Reply:

Friend, about the details, we already sent the message to your Whatsapp. Please check and reply, thanks