How To Mark Cards Fournier WSOP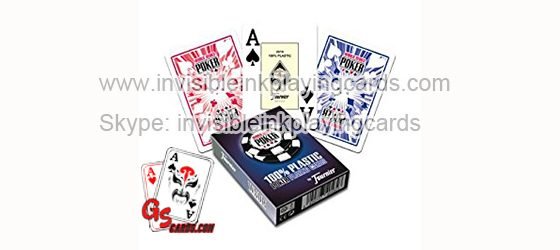 Decks of playing cards can be seen in many places. Of all poker cards in the world, different people in different place and from different work field like using different brand, take magicians for instance, they like using marked magic cards with invisible ink marks that can be seen by secretly contact lenses, so if you have our GS made marked poker cards, you can also be a magician through practice.
Of all poker cards in our company, I would like to introduce our Fournier WSOP marked decks of playing cards to you. Fournier WSOP playing cards are designed especially for World Series of Poker, of course they can be used in many common poker games as well as in magic shows. And Fournier WSOP marked cards is the latest marked cards of Fournier brand. We always marked this kind of cards with big font in the middle on the back of playing cards, and the invisible marks are of good quality, I promise they will not let you down.
What you also need to do is to buy a pair of contact lenses to see the marks we made on Fournier WSOP marked deck, because the marks are of insignificant with naked eyes. If you want to try new poker cards or other cards, please leave message, we will contact you.
Product Information
Decks: 1
Size: Poker Size
Index: Peek(Dual) Index
Colors: Red and Blue
Material: 100% Plastic
Write To Us:markedcardsinvisibleink@hotmail.com
fournier-wsop-juice-marked-decks.jpg
marking-playing-cards-fournier-wsop.jpg
Message
Name:

Jennifer Harding

2018-10-28 01:46:18

IP: 73.112.147.20

Content:

Interested in infrared contact lenses for green eyes. Price please?

Reply:

Hi, friend. Thank you for your enquiry about contact lenses at first, i have sent a message to your Email to you, please check and replay.
Name:

Louvenia Darosa

2018-10-17 22:23:59

IP: 104.144.183.111

Content:

Hello, interested the contact lenses for brown eyes and Modiano marked cards, price?

Reply:

Hello, friend. Thank you for your enquiry about Modiano cards and contact lenses, we have sent you a Email to you, please check and reply.
Name:

Pritam

2018-10-15 15:31:11

IP: 157.43.98.200

Content:

I'm interested in the contract lens

Reply:

Friend, about the details, we already sent the message to your Whatsapp. Please check and reply, thanks