Fournier 818 Poker Cards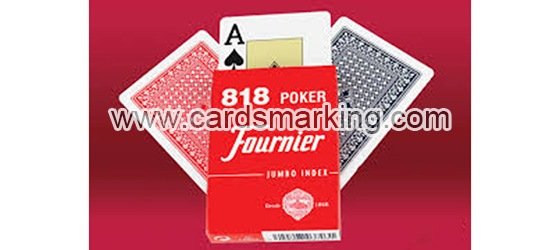 Fournier is the manufacturer of 100% plastic poker, Fournier 818 is the products of Fournier banner. Here I would like to introduce Fournier 818 to you.
Fournier poker is made in Spain, and Fournier 818 poker cards is a kind of wide size and 100% plastic poker cards, Fournier 818 plastic cards providing by GS are jumbo index cards and have many colors for choosing, they are blue, red, orange and green, theses cards can always be entertainment tool to add fun in many occasions, for instance, you can use Fournier 818 poker cards in poker games in family, weekend gatherings with friends and gambling in casinos. Fournier 818 poker cards are durable because they are made of plastic, so the time for using is always longer than other paper cards.
Fournier brand of poker cards are good quality products, Fournier 818 must be a valuable exchange if you buy them and use them in games, you will like them. There has a good news is that Fournier 818 poker can be made into marked playing cards to invisible ink contact lenses.
Product Information
Decks: 1
Size: Poker Size
Index: Jumbo Index
Colors: Red, Blue, Orange, and Green
Material: 100% Plastic
Write To Us:markedcardsinvisibleink@hotmail.com
fournier-818-playing-cards.jpg
Message
Name:

Franz

2018-12-14 08:38:52

IP: 153.33.43.23

Content:

Hello, I would like to know the price of the contact lenses. Thank you

Reply:

Hello, friend. I have sent you a email to you about the details, please check and reply. Thanks
Name:

Lily

2018-11-26 11:11:08

IP: 117.225.53.133

Content:

How much price power bank scanner

Reply:

Thank you for your inquiry about power bank scanner, we have sent a e-mail to you for the details, please check and reply.
Name:

Jennifer Harding

2018-10-28 01:46:18

IP: 73.112.147.20

Content:

Interested in infrared contact lenses for green eyes. Price please?

Reply:

Hi, friend. Thank you for your enquiry about contact lenses at first, i have sent a message to your Email to you, please check and replay.