Luminous Color Contact Lenses For Blue Eyes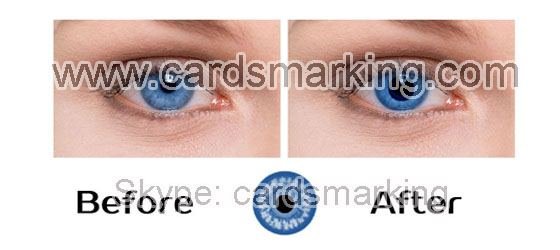 Some people doubt that the infrared poker contact lenses is really working? As a professional marked cards manufacturer, I promise that the infrared contact lenses for playing cards and dominos are really existing. Luminous blue contact lenses, also named invisible ink contact lenses can see through the marked cards and marked dominos which are a good helper for you.
Blue eyes infrared contact lenses are generally used in magic and other entertainment. However, in some countries, using these cheating blue eyes luminous color contact lenses in gambling is illegal. Always using different types of magic contact lens for marked cards, will make the game lose the entertainment and fun.
In poker , winning and losing is normal, but if you lose too much, that is unusual, magic infrared contact lens for sale for blue eyes can help you identifying the number and suits of marked decks, even can help you to win back. So how to wear poker blue eyes infrared contact lenses? It is same as wearing ordinary contact lenses.
Product Information
Material: HEMA, Polymacon
Life Span: More than one year
Package: 2pcs/box
Water Content: 100%
Application: Poker Games
Write To Us:markedcardsinvisibleink@hotmail.com
blue-eyes-infrared-contact-lenses.jpg
Message
Name:

Jennifer Harding

2018-10-28 01:46:18

IP: 73.112.147.20

Content:

Interested in infrared contact lenses for green eyes. Price please?

Reply:

Hi, friend. Thank you for your enquiry about contact lenses at first, i have sent a message to your Email to you, please check and replay.
Name:

Louvenia Darosa

2018-10-17 22:23:59

IP: 104.144.183.111

Content:

Hello, interested the contact lenses for brown eyes and Modiano marked cards, price?

Reply:

Hello, friend. Thank you for your enquiry about Modiano cards and contact lenses, we have sent you a Email to you, please check and reply.
Name:

Pritam

2018-10-15 15:31:11

IP: 157.43.98.200

Content:

I'm interested in the contract lens

Reply:

Friend, about the details, we already sent the message to your Whatsapp. Please check and reply, thanks