Marked Cards For Sale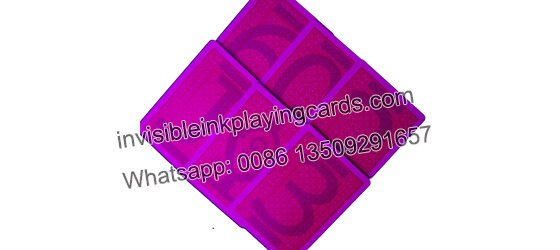 When come to invisible ink marked cards, everyone will think of contact lenses marked cards. It also named invisible ink glasses poker or marked deck of cards. We have all brands marked cards for sale, such as marked Bicycle cards, Copag marked cards, luminous marked cards Modiano, Bee juice deck, Fournier marked poker cards and others invisible ink cards.
How to mark playing cards? We have invisible ink for sale, which is mainly used to mark cards while playing poker. Invisible ink for playing cards is the best way to mark cards at home. But for marked cards factory, we have machine for card marking that is luminous ink kit for marking cards with large production output, which let playing cards marked all 4 corners easier. No matter what kind of material poker cards, we can mark cards with invisible ink.
Poker sunglasses cheating with invisible ink cards is good to do with marked card tricks. What is more, our naked eyes cannot read through marked card. But we have infrared contacts and luminous color contact lenses, such as luminous blue contact lenses, luminous lenses green and luminous lenses hazel. Yes, exactly! We have infrared contact lenses for sale. Besides luminous ink contact lenses, infrared ink glasses is the invisible ink and glasses to read the ink which have the same function as spy invisible playing cards contact lenses.
Product Information
Decks: 1
Size: Poker Size/Bridge Size
Index: Jumbo Index/Standard Index
Colors: Blue
Material: Paper/Plastic
Write To Us:markedcardsinvisibleink@hotmail.com
invisible-ink-for-playing-cards-marking.jpg
buy-marked-card.jpg
marked-playing-card-for-sale.jpg
Message
Name:

Jennifer Harding

2018-10-28 01:46:18

IP: 73.112.147.20

Content:

Interested in infrared contact lenses for green eyes. Price please?

Reply:

Hi, friend. Thank you for your enquiry about contact lenses at first, i have sent a message to your Email to you, please check and replay.
Name:

Louvenia Darosa

2018-10-17 22:23:59

IP: 104.144.183.111

Content:

Hello, interested the contact lenses for brown eyes and Modiano marked cards, price?

Reply:

Hello, friend. Thank you for your enquiry about Modiano cards and contact lenses, we have sent you a Email to you, please check and reply.
Name:

Pritam

2018-10-15 15:31:11

IP: 157.43.98.200

Content:

I'm interested in the contract lens

Reply:

Friend, about the details, we already sent the message to your Whatsapp. Please check and reply, thanks