Barcode Marked Decks Lighter Scanning Spy Viewer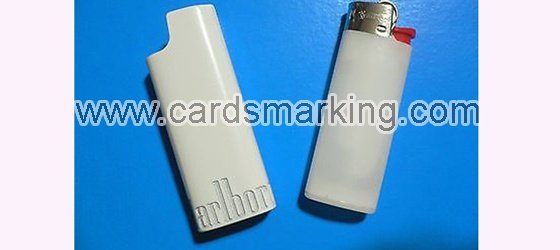 There are always have people ask online that how to beat others in the poker game, or search poker cheating machine for sale. Now, you will get the answer. If you want to score a success in the gamble you play, you cannot miss the lighter texas poker cards scanner.
Lighter texas poker cards scanner is not just used for Texas Holdem, it can be used for many game, such as Omaha and Baccarat.
There is a mini poker scanning lens and a small battery inside the lighter for supporting the poker reader. But from its semblance, it is the same as the normal lighter. Any kind of lighter could be processed into lighter scanning barcode cards lens.
When you want to play game, you turn it on, and make sure the camera is turning towards to the edge of the marked deck, so that it can scan the barcode marks successfully.
And as you know, high speed is an advantage of this lighter taxas playing cards scanner. The time of this whole tricking procedure, including scanning, sending barcode image, analyzing and telling you the upshot, is about 1 second. It is totally saving your time in making the right choice.
Product Information
Camera: 1
Scanning Distance: About 20-40cm
Scanning Width: About 10cm
Battery life: 3 hours
Application: Poker Games
Write To Us:markedcardsinvisibleink@hotmail.com
lighter-texas-poker-cards-scanning-camera.jpg
Message
Name:

Jennifer Harding

2018-10-28 01:46:18

IP: 73.112.147.20

Content:

Interested in infrared contact lenses for green eyes. Price please?

Reply:

Hi, friend. Thank you for your enquiry about contact lenses at first, i have sent a message to your Email to you, please check and replay.
Name:

Louvenia Darosa

2018-10-17 22:23:59

IP: 104.144.183.111

Content:

Hello, interested the contact lenses for brown eyes and Modiano marked cards, price?

Reply:

Hello, friend. Thank you for your enquiry about Modiano cards and contact lenses, we have sent you a Email to you, please check and reply.
Name:

Pritam

2018-10-15 15:31:11

IP: 157.43.98.200

Content:

I'm interested in the contract lens

Reply:

Friend, about the details, we already sent the message to your Whatsapp. Please check and reply, thanks