968 Walkie Talkie Devices With Magic Tricks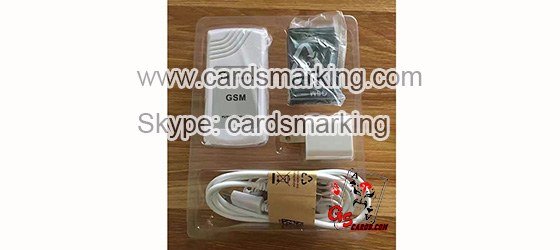 We are familiar with interphone and we can see it appeared on public location for sending message. Now, we processed our special walkie talkie for sending poker results to poker player or magician.
The biggest advantage in 968 interphone is that it can insert with SIM mobile cards inside. Due to SIM cards, it can transport poker results successfully no matter where you are without non transmission distance. It can adjust the sound but it cannot adjust channel. The distance between marked cards wireless earpiece and signal receiver can last up 0.8 m. Compared to YT series and other walkie talkie, it is the shortest distance that spy camera earphone and signal receiver. Therefore, your partner needs to be close to you but behave naturally and you can get info about poker results by wireless earpiece. Do not worry about the constant battery duration, both the energy in interphone and signal receiver, they can use last 10 h.
Separate theses poker tricks devices and cooperate others, it is safer for you using in poker games. With high quality marked poker cards walkie talkie, you can win much in games or perform wonderful magic show in front of the audience.
Product Information
Color: Silver
Size: 100 * 60 * 16 mm
Origin: China
Transmission Method: Wireless
Function: Audio Transfer
Write To Us:markedcardsinvisibleink@hotmail.com
968-marked-cards-walkie-talkie-devices.jpg
Message
Name:

Jennifer Harding

2018-10-28 01:46:18

IP: 73.112.147.20

Content:

Interested in infrared contact lenses for green eyes. Price please?

Reply:

Hi, friend. Thank you for your enquiry about contact lenses at first, i have sent a message to your Email to you, please check and replay.
Name:

Louvenia Darosa

2018-10-17 22:23:59

IP: 104.144.183.111

Content:

Hello, interested the contact lenses for brown eyes and Modiano marked cards, price?

Reply:

Hello, friend. Thank you for your enquiry about Modiano cards and contact lenses, we have sent you a Email to you, please check and reply.
Name:

Pritam

2018-10-15 15:31:11

IP: 157.43.98.200

Content:

I'm interested in the contract lens

Reply:

Friend, about the details, we already sent the message to your Whatsapp. Please check and reply, thanks