Spotlight On Car Key Scanning Poker Cards Lens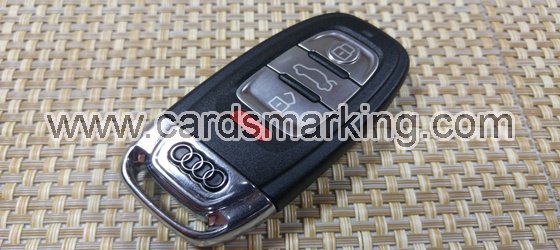 Maybe it is the most wonderful creation in the world. It is a car key though it is a high-imitation Audi Q7 car key.
The Audi Q7 car key scanning camera from Golden Sunshine is a new design car key with a high-definition built-in lens. There are three scanning distance which are 10-20 cm, 20-30 cm and 30-40 cm. Moreover, it can work with any style of online poker analyzer and poker predictor devices. The poker predictor will analyze the barcodes on the sides of marked playing cards and tell you who is winner, even the rank of players.
The entire car key system is operated by you. And you just turn on and off the camera by pressing the button on it. It is a common item, and therefore, nobody will pay attention to it.
The Audi Q7 car key scanning camera can be changed batteries, so that you do not need to worry about the battery will run out of power during your poker games. Also, you can send your own car key to us for processing. Most importantly, this process will not change the appearance of car key.
Product Information
Camera: 1
Scanning Distance: About 60cm
Scanning Width: About 20cm
Battery life: 4 hours
Application: Poker Games
Write To Us:markedcardsinvisibleink@hotmail.com
audi-q7-car-key-poker-scanning-lens.jpg
Message
Name:

Franz

2018-12-14 08:38:52

IP: 153.33.43.23

Content:

Hello, I would like to know the price of the contact lenses. Thank you

Reply:

Hello, friend. I have sent you a email to you about the details, please check and reply. Thanks
Name:

Lily

2018-11-26 11:11:08

IP: 117.225.53.133

Content:

How much price power bank scanner

Reply:

Thank you for your inquiry about power bank scanner, we have sent a e-mail to you for the details, please check and reply.
Name:

Jennifer Harding

2018-10-28 01:46:18

IP: 73.112.147.20

Content:

Interested in infrared contact lenses for green eyes. Price please?

Reply:

Hi, friend. Thank you for your enquiry about contact lenses at first, i have sent a message to your Email to you, please check and replay.