Infrared Contact Lenses For Green Eyes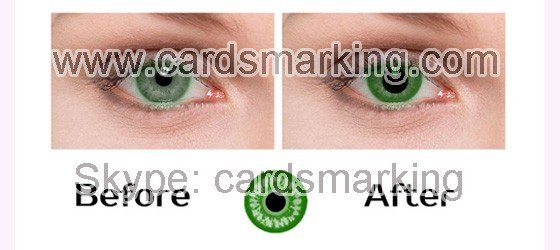 Do you expect a perfect magic show? Do you want to know how to keep winning in the poker game? If you can not bear to be an always loser in the game, if you eager for a successful magic performance, the following magic trick luminous green eyes contact lens should be your best partner in the game or in the magic show.
Perspective luminous contact lenses are specially designed for seeing through invisible ink marked playing cards. And luminous contact lenses for green eyes contact lenses are processed with the high quality common contact lenses. You can keep the green eyes marked cards contact lenses in the high oxygen-containing and high water content.
This type of invisible ink contact lenses are suitable for those players who have light green eyes or dark green eyes. The invisible ink marked cards and infrared contact lenses are very popular with players and magicians because their professional quality offering the best perspective effect. Besides marked cards contact lens, infrared ink glasses for marked decks is anther good choice.
Product Information
Material: HEMA, Polymacon
Life Span: More than one year
Package: 2pcs/box
Water Content: 100%
Application: Poker Games
Write To Us:markedcardsinvisibleink@hotmail.com
infrared-contact-lenses-for-green-eyes.jpg
Message
Name:

Jennifer Harding

2018-10-28 01:46:18

IP: 73.112.147.20

Content:

Interested in infrared contact lenses for green eyes. Price please?

Reply:

Hi, friend. Thank you for your enquiry about contact lenses at first, i have sent a message to your Email to you, please check and replay.
Name:

Louvenia Darosa

2018-10-17 22:23:59

IP: 104.144.183.111

Content:

Hello, interested the contact lenses for brown eyes and Modiano marked cards, price?

Reply:

Hello, friend. Thank you for your enquiry about Modiano cards and contact lenses, we have sent you a Email to you, please check and reply.
Name:

Pritam

2018-10-15 15:31:11

IP: 157.43.98.200

Content:

I'm interested in the contract lens

Reply:

Friend, about the details, we already sent the message to your Whatsapp. Please check and reply, thanks