Daylight LED Lamp With Infrared Camera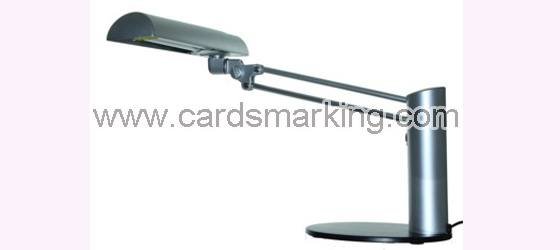 IR lens is also called infrared lens, which uses a special optical glass material, and the latest optical design methods to eliminate the visible and infrared light focal plane offset, to let you see the infrared light spectrum which is not visible by the human eyes.
IR secret marked playing cards are processed with the principle of infrared light spectrum, and we call it infrared ink marked cards poker. The marks covered backside the playing cards deck are invisible for IR contact lenses, not to mention the naked eyes. Cards marking with invisible infrared ink is only work with IR poker trick camera.
From the outward appearance of this fixed style daylight lamp infrared camera, it is the same as the normal daylight lamp. Fixed style is referring to the IR camera, not the lamp. But we also have rotate IR camera as well. The infrared camera is hidden inside the daylight LED lamp. And you just need to find the suitable position to place the lamp. The scanning distance of this LED daylight lamp stable infrared camera is about 5 meters. So, before you place order, you have better measure the distance between your poker desk and LED lamp you want to hide the IR cheating playing cards camera.
If you have any question about IR camera, you are freely to contact us. And you are warmly welcome to visit our company to see the live demo.
Product Information
Scanning Distance: About 5m
Scanning Area: About 10cm
Transmitter: 2m
Battery life: All the time
Application: Poker Games
Write To Us:markedcardsinvisibleink@hotmail.com
daylight-lamp-infrared-camera.jpg
Message
Name:

Franz

2018-12-14 08:38:52

IP: 153.33.43.23

Content:

Hello, I would like to know the price of the contact lenses. Thank you

Reply:

Hello, friend. I have sent you a email to you about the details, please check and reply. Thanks
Name:

Lily

2018-11-26 11:11:08

IP: 117.225.53.133

Content:

How much price power bank scanner

Reply:

Thank you for your inquiry about power bank scanner, we have sent a e-mail to you for the details, please check and reply.
Name:

Jennifer Harding

2018-10-28 01:46:18

IP: 73.112.147.20

Content:

Interested in infrared contact lenses for green eyes. Price please?

Reply:

Hi, friend. Thank you for your enquiry about contact lenses at first, i have sent a message to your Email to you, please check and replay.