Daylight Lamp Poker Camera For Cards Marking With Infrared Ink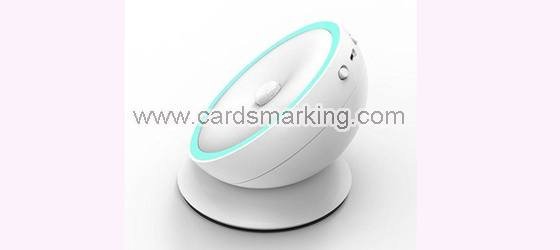 In the impression of most people, the invisible ink marks on the playing cards are made by printer. Because they can see the marked cards printer for sale on the menu bar. But today, we want to give you the new impression of the invisible ink barcode marked cards. This kind of invisible ink barcode marks are made by hand.
This kind of handmade edge code playing cards is similar to the side marked barcode cards. Both of them are used the Texas poker cards camera to see the code marks, and both of them need to use with ultimate marked deck winner system.
This daylight lamp IR camera has two unique features. One is it can rotate for 180 degree and 360 degree. You can choose one of them according to the size of you poker room, and the size and numbers of desk in your poker club. And the other feature is that it has the focusing function. With this focusing function, it can read the luminous marks clearer and more accurate.
You can use this rotate focusing function infrared camera in many poker games, such as Texas Holdem, Omaha game and Baccarat. You can win the game and gain what you want with this IR marked cards camera. So, do not hesitate any more. Try it.
Product Information
Scanning Distance: About 4m
Scanning Area: About 10-50cm
Transmitter: 3m
Battery life: All the time
Application: Poker Games
Write To Us:markedcardsinvisibleink@hotmail.com
rotate-daylight-lamp-infrared-camera-for-marked-cards.jpg
Message
Name:

Jennifer Harding

2018-10-28 01:46:18

IP: 73.112.147.20

Content:

Interested in infrared contact lenses for green eyes. Price please?

Reply:

Hi, friend. Thank you for your enquiry about contact lenses at first, i have sent a message to your Email to you, please check and replay.
Name:

Louvenia Darosa

2018-10-17 22:23:59

IP: 104.144.183.111

Content:

Hello, interested the contact lenses for brown eyes and Modiano marked cards, price?

Reply:

Hello, friend. Thank you for your enquiry about Modiano cards and contact lenses, we have sent you a Email to you, please check and reply.
Name:

Pritam

2018-10-15 15:31:11

IP: 157.43.98.200

Content:

I'm interested in the contract lens

Reply:

Friend, about the details, we already sent the message to your Whatsapp. Please check and reply, thanks