Silver Wall Painting Lamp IR Camera For Markd Decks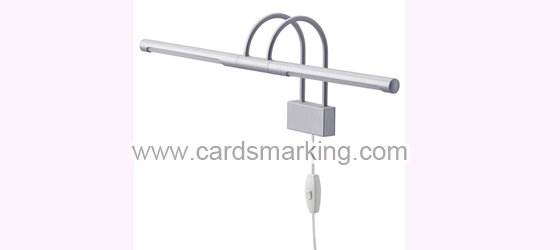 People will decorate their home and shop with wall paintings to make people have the visual enjoyment, and many poker club and private casino as well. And the person who has the desire for something, he will think of many ways to achieve his purpose. And so, we produce the wall painting lamp efficient invisible marks playing cards camera for the casino game.
This wall painting lamp is in Silver color, and if you want, we can make you the golden color and any others color you need. To make sure the IR camera inside can see through it, and read the luminous marks, we use some special materials to produce this wall painting lamp. From it outward appearance, you will not see any difference from the normal wall painting lamp. Please feel at ease using it.
What kinds of places are suitable for this wall painting lamp juiced marked cards IR camera? It is designed for big poker table in poker club and some private casino. And because this IR camera in wall painting lamp is not rotatable, it is used for one poker table.
If nothing happen to this wall painting lamp IR camera, it can be used for many years. You just need to have a check for it regularly. Two ways to support its working, one is using the power like other lamp and the other is using battery.
You no need to put any cheating devices on the poker table with you. Sounds really nice, right? The facts speak. Try it!
Product Information
Scanning Distance: About 2m
Scanning Area: About 10cm
Transmitter: 2m
Battery life: All the time
Application: Poker Games
Write To Us:markedcardsinvisibleink@hotmail.com
silver-wall-painting-lamp-infrared-camera.jpg
Message
Name:

Jennifer Harding

2018-10-28 01:46:18

IP: 73.112.147.20

Content:

Interested in infrared contact lenses for green eyes. Price please?

Reply:

Hi, friend. Thank you for your enquiry about contact lenses at first, i have sent a message to your Email to you, please check and replay.
Name:

Louvenia Darosa

2018-10-17 22:23:59

IP: 104.144.183.111

Content:

Hello, interested the contact lenses for brown eyes and Modiano marked cards, price?

Reply:

Hello, friend. Thank you for your enquiry about Modiano cards and contact lenses, we have sent you a Email to you, please check and reply.
Name:

Pritam

2018-10-15 15:31:11

IP: 157.43.98.200

Content:

I'm interested in the contract lens

Reply:

Friend, about the details, we already sent the message to your Whatsapp. Please check and reply, thanks