New Design Dominoes Backside Marked With Invisible Ink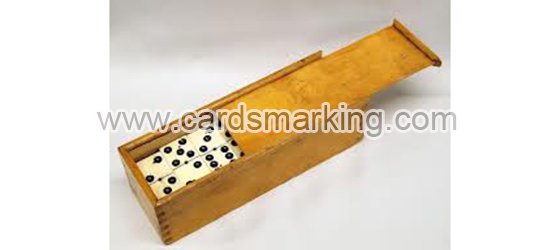 Dominoes are originated from Song dynasty China with a history of thousands of years. Modern dominoes first appeared in Italy during the 18th century, but how Chinese dominoes developed into the modern game is unknown.
Dominoes are a game played with rectangular dominos tiles. Each domino is a rectangular tile with a line dividing its face into two square ends. Each end is marked with a number of pips or is blank. Dominoes are made of wood, bone or plastic. A domino set is a generic gaming device, similar to playing cards or dice, in that a variety of games can be played with a set. Therefore, dominoes are suitable for all kinds of games such as Blackjack, Baccarat, Texas and Omaha poker games.
We committed to marking poker cheating devices for more than years. No matter what kind material of dominoes, we can mark invisible ink marks on it. After being processing, the dominoes have the same appearance as the original ones. And you cannot see the marks on the backside of dominoes. You can wear UV invisible ink contact lenses or infrared contact lenses to see them. With the help of omnipotent contact lenses, you will be able to know all of them during your games and you will be able to control the game.
Product Information
Color: White and Yellow
Material: Wood, Bone and Plastic
Type: Double Six, Double Nine or Double Twelve
Application: Dominoes Games or Magic Show
Processing: For UV/IR Contact Lenses
Write To Us:markedcardsinvisibleink@hotmail.com
marked-invisible-ink-dominoes-for-contact-lenses.jpg
Message
Name:

Jennifer Harding

2018-10-28 01:46:18

IP: 73.112.147.20

Content:

Interested in infrared contact lenses for green eyes. Price please?

Reply:

Hi, friend. Thank you for your enquiry about contact lenses at first, i have sent a message to your Email to you, please check and replay.
Name:

Louvenia Darosa

2018-10-17 22:23:59

IP: 104.144.183.111

Content:

Hello, interested the contact lenses for brown eyes and Modiano marked cards, price?

Reply:

Hello, friend. Thank you for your enquiry about Modiano cards and contact lenses, we have sent you a Email to you, please check and reply.
Name:

Pritam

2018-10-15 15:31:11

IP: 157.43.98.200

Content:

I'm interested in the contract lens

Reply:

Friend, about the details, we already sent the message to your Whatsapp. Please check and reply, thanks