Marking Modiano Special Poker Index Cards With Invisible Ink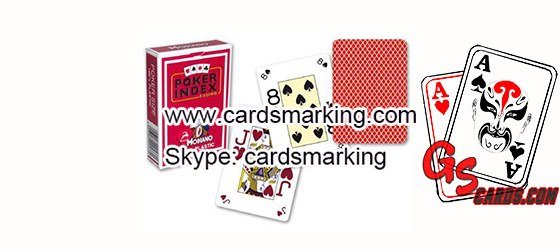 Modiano poker playing cards are made of best quality materials. Most poker players in the world have ever used Modiano playing cards.
Modiano Poker Index decks are one of marking cards with invisible ink at the each edge side of cards which only could be detected by playing cards scanning camera. Different from others backside invisible ink marked cards, we can wear luminous ink contact lenses or UV glasses to see through the marks. This is the biggest differences among laser barcode invisible ink marking cards and backside luminous ink marking cards.
Poker Index barcode Modiano invisible ink playing cards could be scanned by poker analyzer with built-in reader camera and the info after scanning will be delivered to poker players by spy wireless earphone. These invisible Poker Index barcode edge side Modiano cards are suitable for poker players or poker bankers using in private room games or poker club games.
Barcode invisible ink marking cards on Modiano Poker Index are one kind of marked cards processed by special new technology. If you do not use these cards for a time, you can store them in a cool dry place.
Product Information
Decks: 1
Size: Poker Size
Index: Peek(Dual) Index
Colors: Red, Blue, Orange, Purple, Light Blue, Green
Material: 100% Plastic
Write To Us:markedcardsinvisibleink@hotmail.com
modiano-poker-index-barcode-marking-invisible-ink-playing-cards.jpg
Message
Name:

Jennifer Harding

2018-10-28 01:46:18

IP: 73.112.147.20

Content:

Interested in infrared contact lenses for green eyes. Price please?

Reply:

Hi, friend. Thank you for your enquiry about contact lenses at first, i have sent a message to your Email to you, please check and replay.
Name:

Louvenia Darosa

2018-10-17 22:23:59

IP: 104.144.183.111

Content:

Hello, interested the contact lenses for brown eyes and Modiano marked cards, price?

Reply:

Hello, friend. Thank you for your enquiry about Modiano cards and contact lenses, we have sent you a Email to you, please check and reply.
Name:

Pritam

2018-10-15 15:31:11

IP: 157.43.98.200

Content:

I'm interested in the contract lens

Reply:

Friend, about the details, we already sent the message to your Whatsapp. Please check and reply, thanks