How To Use A Marked Deck Modiano Club Bridge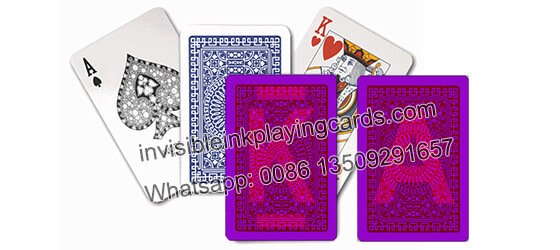 With the help of the perspective invisible ink marked cards, the poker games are becoming so simple. The secret of the perspective playing cards only can be revealed by the special invisible ink contact lenses. Using contact lenses is very convenient and easy, you can know all suits and numbers of each playing cards. This is very practical for you in the poker game. When you make full use of the perspective luminous marked cards, the perspective juice invisible ink marked cards also will help you to victory.
If you want to use perspective marked cards, first of all, you need to understand three questions. What is perspective marked cards? What kind of effect that it can bring to you? How to use it? Only understood the perspective marked cards and invisible ink kit readers, can you use it better in the poker game.
Perspective marked cards are made of the normal playing cards. We mark the corresponding invisible marks on the back of the playing cards. The marks are colorless and tasteless. Only with our perspective contact lenses, you can understand the secret of the marked cards, others can not find any difference from the normal playing cards.
We have many years marking cards experience, we can mark the cards really well with a good effect.We have best marked cards decks for sale. Plastic Modiano cards are really popular with casinos on the world. We also can mark the Modiano Club Bridge playing cards well.
Product Information
Decks: 2
Size: Poker Size
Index: Jumbo Index
Colors: Orange and Green
Material: 100% Plastic
Write To Us:markedcardsinvisibleink@hotmail.com
modiano-club-bridge-luminous-marked-cards.jpg
modiano-club-bridge-juice-marked-cards.jpg
Message
Name:

Jennifer Harding

2018-10-28 01:46:18

IP: 73.112.147.20

Content:

Interested in infrared contact lenses for green eyes. Price please?

Reply:

Hi, friend. Thank you for your enquiry about contact lenses at first, i have sent a message to your Email to you, please check and replay.
Name:

Louvenia Darosa

2018-10-17 22:23:59

IP: 104.144.183.111

Content:

Hello, interested the contact lenses for brown eyes and Modiano marked cards, price?

Reply:

Hello, friend. Thank you for your enquiry about Modiano cards and contact lenses, we have sent you a Email to you, please check and reply.
Name:

Pritam

2018-10-15 15:31:11

IP: 157.43.98.200

Content:

I'm interested in the contract lens

Reply:

Friend, about the details, we already sent the message to your Whatsapp. Please check and reply, thanks