Modiano Golden Trophy Marked Cards Poker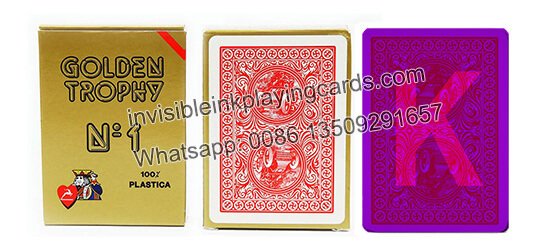 Infrared invisible ink Modiano Golden Trophy marked cards is manufactured on the basis of the regular poker playing cards, it will not affected by any strong electromagnetic wave, after processing with the original Modiano playing cards, there is no difference on the appearance, there is no loophole. Your poker cards also can be processed, and any kind of poker cards can be processed. Infrared Modiano Golden Trophy cards is easy to operate and convenient for using, safe and hidden. Following is the advantage of infrared Modiano Golden Trophy marking playing cards.
1, Infrared poker cards is a very useful cards magic props , it will enable your magic show smoother and more accurate.
2, The people who without wear the perspective infrared marked cards contact lenses or marked decks glasses can not see the secret juice markings, the concealment is very high.
3, Modiano Golden Trophy infrared luminous marked cards is 100% plastic cards, it is more professional than paper cards.
Product Information
Decks: 1
Size: Poker size
Index: Jumbo index
Color: Golden and Grey
Material: 100% Plastic
Write To Us: markedcardsinvisibleink@hotmail.com
modiano-golden-trophy-poker-marked-cards.jpg
how-to-read-marked-cards-modiano-golden-trophy.jpg
Message
Name:

Franz

2018-12-14 08:38:52

IP: 153.33.43.23

Content:

Hello, I would like to know the price of the contact lenses. Thank you

Reply:

Hello, friend. I have sent you a email to you about the details, please check and reply. Thanks
Name:

Lily

2018-11-26 11:11:08

IP: 117.225.53.133

Content:

How much price power bank scanner

Reply:

Thank you for your inquiry about power bank scanner, we have sent a e-mail to you for the details, please check and reply.
Name:

Jennifer Harding

2018-10-28 01:46:18

IP: 73.112.147.20

Content:

Interested in infrared contact lenses for green eyes. Price please?

Reply:

Hi, friend. Thank you for your enquiry about contact lenses at first, i have sent a message to your Email to you, please check and replay.