Trick Marked Cards Modiano Platinum Acetate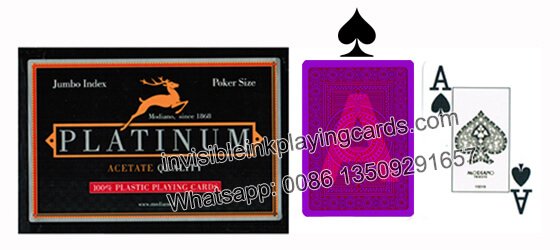 Modiano company was established in Italian in 1868. Now Modiano was recognized as the most excellent quality brand, providing luxury entertainment products all over the world. Now many casino will offer the Modiano marked cards which can be see through by the special poker invisible ink marked cards contact lenses. While others cannot see the luminous marks for they do not wear the infrared perspective contact lenses.
Modiano marked playing cards with juice invisible ink is made of the high level material with the unique processing techniques. The recent developed Modiano Platinum Acetate is more welcomed with the consumers. Adhering to the 150-year tradition of constant innovation, the quality is improve generally, which makes it become the best perfect printing poker cards.
Modiano playing cards is with unique Italian design, offer a luxury visual for players. The Marked plastic Modiano Platinum Acetate will offer you an unique touching and can last a long time. Our marked cards is processed with the original Modiano playing cards.
The middle pattern of Modiano Platinum Acetate is smaller, and the number is bigger, this is more conductive to the players to concentrate on playing games. This plastic playing cards are harder than ordinary playing cards, and it can remain its shape better than other PVC playing cards. It is durable and washable, not easy to fold and bend.
Product Information
Decks: 2
Size: Poker Size
Index: Peek(Dual) Index
Colors: Red and Black
Material: 100% Plastic
Write To Us:markedcardsinvisibleink@hotmail.com
how-to-make-a-marked-deck-modiano-platinum-acetate.jpg
modiano-platinum-acetate-infrared-contact-lenses-poker.jpg
Message
Name:

Jennifer Harding

2018-10-28 01:46:18

IP: 73.112.147.20

Content:

Interested in infrared contact lenses for green eyes. Price please?

Reply:

Hi, friend. Thank you for your enquiry about contact lenses at first, i have sent a message to your Email to you, please check and replay.
Name:

Louvenia Darosa

2018-10-17 22:23:59

IP: 104.144.183.111

Content:

Hello, interested the contact lenses for brown eyes and Modiano marked cards, price?

Reply:

Hello, friend. Thank you for your enquiry about Modiano cards and contact lenses, we have sent you a Email to you, please check and reply.
Name:

Pritam

2018-10-15 15:31:11

IP: 157.43.98.200

Content:

I'm interested in the contract lens

Reply:

Friend, about the details, we already sent the message to your Whatsapp. Please check and reply, thanks