Modiano Bike Trophy Cards On Sale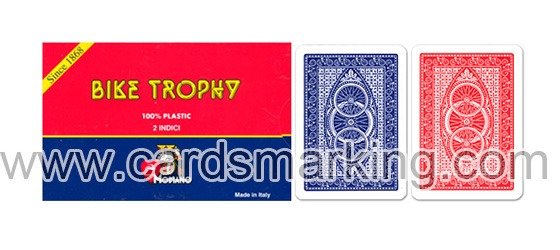 Description
Modiano Bike Trophy jumbo index Playing Cards are made in Italy and are 100% plastic cards, which means that they are designed to last up to 100 times longer than traditional paper based/plastic coated playing cards. These cards are fade resistant, washable, waterproof and will not crimp, crease, or tear under normal playing conditions. Modiano has been making smooth, durable playing cards. Why not use Modiano Bike Trophy luminous marked cards? GS marked cards factory devoted herself to marking Modiano poker.
Modiano Jumbo Bike red and blue Cards are thicker and heavier than any other 100% plastic playing card in the market today. Once you deal Modiano you will recognize the substantial feel that only Modiano provides and never want to deal flimsy light weight cards again.
Product Information
Decks: 1
Size: Poker Size
Index: Peek(Dual) Index
Colors: Red and Blue
Material: 100% Plastic
Write To Us:markedcardsinvisibleink@hotmail.com
modiano-bike-trophy-playing-cards.jpg
Message
Name:

Franz

2018-12-14 08:38:52

IP: 153.33.43.23

Content:

Hello, I would like to know the price of the contact lenses. Thank you

Reply:

Hello, friend. I have sent you a email to you about the details, please check and reply. Thanks
Name:

Lily

2018-11-26 11:11:08

IP: 117.225.53.133

Content:

How much price power bank scanner

Reply:

Thank you for your inquiry about power bank scanner, we have sent a e-mail to you for the details, please check and reply.
Name:

Jennifer Harding

2018-10-28 01:46:18

IP: 73.112.147.20

Content:

Interested in infrared contact lenses for green eyes. Price please?

Reply:

Hi, friend. Thank you for your enquiry about contact lenses at first, i have sent a message to your Email to you, please check and replay.