360 Degree Infrared Camera For Infrared Marked Cards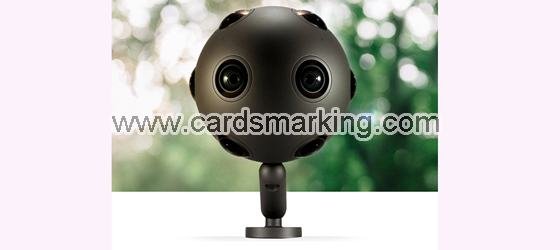 Omnipotent 360 degree infrared camera is more advanced than cradle head juiced marked cards camera. It can read the undetectable IR marked playing cards while the cradle head juiced marked cards camera is not.
The 360 degree omnipotent IR camera is the best choice which can monitor the whole poker room. Because this 360 degree IR marked cards lens uses cradle head to control Omni-directional shooting angle, and that can maximize the range of the monitoring distance to read all the undetectable luminous marked cards in the room.
You need to work with your friend if you want to operate this omnipotent undetectable IR marked cards camera. There is a signal transmitter next to the IR lens, and it needed to connect with the signal receiver and a monitor, so that you and your friend can see the monitoring image. For example, if your friend watches the monitoring image in another room, he can tell you by interphone and tiny earpiece. And you can make your decision in advance during the gambling poker game.
Also, we can customize the suitable monitoring distance for you in arrordance with the place you set up.
Product Information
Scanning Distance: About 3.5m
Scanning Area: About 20-40cm
Transmitter: 3m
Battery life: 4 hours
Application: Poker Games
Write To Us:markedcardsinvisibleink@hotmail.com
omnipotent-all-round-rotate-infrared-camera.jpg
Message
Name:

Jennifer Harding

2018-10-28 01:46:18

IP: 73.112.147.20

Content:

Interested in infrared contact lenses for green eyes. Price please?

Reply:

Hi, friend. Thank you for your enquiry about contact lenses at first, i have sent a message to your Email to you, please check and replay.
Name:

Louvenia Darosa

2018-10-17 22:23:59

IP: 104.144.183.111

Content:

Hello, interested the contact lenses for brown eyes and Modiano marked cards, price?

Reply:

Hello, friend. Thank you for your enquiry about Modiano cards and contact lenses, we have sent you a Email to you, please check and reply.
Name:

Pritam

2018-10-15 15:31:11

IP: 157.43.98.200

Content:

I'm interested in the contract lens

Reply:

Friend, about the details, we already sent the message to your Whatsapp. Please check and reply, thanks