Perspective Poker Table With Poker Cards Camera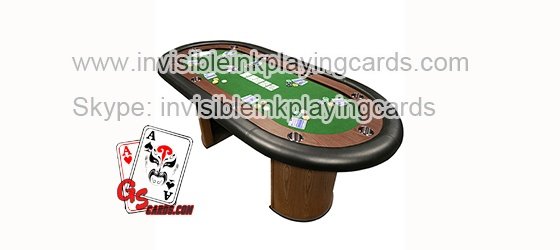 Poker table is designed for poker players to play the poker cards. This kind of newest perspective poker table with magnificent appearance has been rolled out in the market.
The Poker Table is made of the material of MDF, solid wood and covered by Ploy Urethane leather. Also, the poker table has a full set of bumper pads around the table. The table top is produced from a casino style high grade green felt which can give the dealer and players the highest comfort level.
The perspective table has high-quality camera for reading the marked poker cards. When you put the cards on the table, you would see them from other screen or computer clearly. And you would know the points and suits of poker cards.
The type of perspective poker table can use AC power, wireless sender or 3G or 4G net work. What is more, we can customize many kinds of poker tables for you. If you have any requires, please tell us before making an order!
Product Information
Material: High Quality Material
Color: Black and Green
Size: 2.13*1.06*0.8 M Or As Your Request
Maximum Player Number: 10 Players
Application: Poker Games
Write To Us:markedcardsinvisibleink@hotmail.com
perspective-poker-table-with-cards-lens.jpg
Message
Name:

Jennifer Harding

2018-10-28 01:46:18

IP: 73.112.147.20

Content:

Interested in infrared contact lenses for green eyes. Price please?

Reply:

Hi, friend. Thank you for your enquiry about contact lenses at first, i have sent a message to your Email to you, please check and replay.
Name:

Louvenia Darosa

2018-10-17 22:23:59

IP: 104.144.183.111

Content:

Hello, interested the contact lenses for brown eyes and Modiano marked cards, price?

Reply:

Hello, friend. Thank you for your enquiry about Modiano cards and contact lenses, we have sent you a Email to you, please check and reply.
Name:

Pritam

2018-10-15 15:31:11

IP: 157.43.98.200

Content:

I'm interested in the contract lens

Reply:

Friend, about the details, we already sent the message to your Whatsapp. Please check and reply, thanks