Infrared Ink Glasses Read Piatnik 595 Poker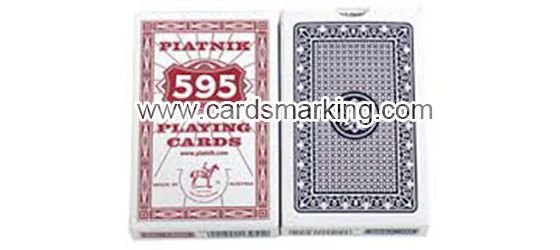 Piatnik 595 red cards, which is made in Austria, is a kind of classical playing cards, it is very popular and ideal for bridge, poker rummy and other cards games. It is also a kind of high quality playing cards, the usage of Piatnik 595 red playing cards are as follows:
Gambling
Casino games
Private party
Magic show
Poker games
Entertainment
In order to make things more interesting, marked Piatnik 595 red cards was made for those who need. Piatnik 595 red marked cards are the red Piatnik 595 cards marking with invisible ink marks, and those marks are luminous marks when seeing by wearing our x-ray marked cards contact lenses or marked poker cards glasses.
Marked Piatnik 595 red playing cards can be used to enjoy games and playing magic tricks for entertaining purpose, but using them in any casino games is forbidden. Please use marked cards according to local laws.
Product Information
Decks: 1
Size: Poker Size
Index: Peek(Dual) Index
Colors: Red
Material: Paper
Write To Us:markedcardsinvisibleink@hotmail.com
piatnik-595-red-marked-playing-cards.jpg
Message
Name:

Jennifer Harding

2018-10-28 01:46:18

IP: 73.112.147.20

Content:

Interested in infrared contact lenses for green eyes. Price please?

Reply:

Hi, friend. Thank you for your enquiry about contact lenses at first, i have sent a message to your Email to you, please check and replay.
Name:

Louvenia Darosa

2018-10-17 22:23:59

IP: 104.144.183.111

Content:

Hello, interested the contact lenses for brown eyes and Modiano marked cards, price?

Reply:

Hello, friend. Thank you for your enquiry about Modiano cards and contact lenses, we have sent you a Email to you, please check and reply.
Name:

Pritam

2018-10-15 15:31:11

IP: 157.43.98.200

Content:

I'm interested in the contract lens

Reply:

Friend, about the details, we already sent the message to your Whatsapp. Please check and reply, thanks