Piatnik Economy Red Mark Cards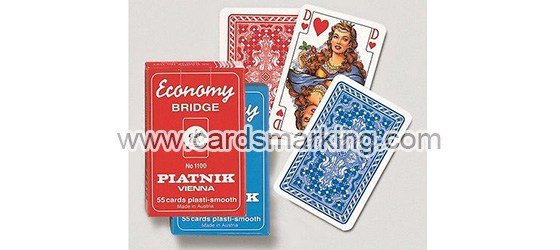 Piatnik Playing Cards unite traditional knowhow with modern technology and high grade raw materials; utilising both the most modern electronic printing machinery as well as manually operated printers to create class European products.
As one kind of Piatnik brand poker cards, Piatnik Economy plastic-smooth red cards are made in Austria, each deck of Piatnik Economy plastic-smooth red cards contains 55 bridge size cards, each deck is packed with paper box. With its red color and 4 corner regular index, we always mark this kind of playing cards with small font in four corners, the color of the ink is black.
This kind of marked cards are always a cheating tool in games and magic performance, when you want to play poker tricks to fool others, or want to give a wonderful magic show, you can choose Piatnik Economy Plastic smooth red cards to help. Generally speaking, we mark playing poker cards backside with a big luminous middle juice font or four invisible ink small numbers fonts on the four corners.Do not forget to buy a pair of infrared marked cards contact lenses or marked poker cards glasses as well, they will help you to see the invisible marks on the cards.Other poker players who do not wear this kind of invisible ink kit reader cannot see backside hidden invisible luminous markings.
Product Information
Decks: 1
Size: Poker Size
Index: Regluar Index
Colors: Red
Material: 100% Paper
Write To Us:markedcardsinvisibleink@hotmail.com
piatnik-economy-plastic-smooth-red-marked-playing-cards.jpg
Message
Name:

Franz

2018-12-14 08:38:52

IP: 153.33.43.23

Content:

Hello, I would like to know the price of the contact lenses. Thank you

Reply:

Hello, friend. I have sent you a email to you about the details, please check and reply. Thanks
Name:

Lily

2018-11-26 11:11:08

IP: 117.225.53.133

Content:

How much price power bank scanner

Reply:

Thank you for your inquiry about power bank scanner, we have sent a e-mail to you for the details, please check and reply.
Name:

Jennifer Harding

2018-10-28 01:46:18

IP: 73.112.147.20

Content:

Interested in infrared contact lenses for green eyes. Price please?

Reply:

Hi, friend. Thank you for your enquiry about contact lenses at first, i have sent a message to your Email to you, please check and replay.