PK King S708 Poker Analyzer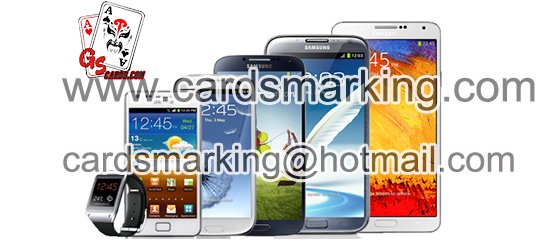 PK King S708 playing cards scanner in white color has more fashionable outward look than any other old poker analyzer. You can choose 5 kinds of poker games in this PK King S708 scanner analyzer, such as Texas Holdem, Omaha and Flush games, etc.
The whole set of PK King S708 poker analyzer include one Bluetooth smart watch, one remote control vibrator, one spy poker wireless earpiece, one charger and one poker analyzer with scanning camera. PK King S708 cards winner system can scan laser barcode invisible ink marked cards and analyzing poker results for the poker games. What is more, the range of built-in camera could be reached at 30-80 cm, PK King S708 is quiet helpful if you possess it.
Different with other poker analyzer, you can receive results by watching the marked cards smart watch or feeling the vibrator. The remote control vibrator can use for adjusting numbers of players or switching built-in scanning camera or external poker camera.
Product Information
Configuration:
1. 1 remote controller
2. 2 batteries or 3 batteries
3. 1 charger
Application: Poker Games
Write To Us:markedcardsinvisibleink@hotmail.com
pk-king-s708-poker-analzyer.jpg
Message
Name:

Jennifer Harding

2018-10-28 01:46:18

IP: 73.112.147.20

Content:

Interested in infrared contact lenses for green eyes. Price please?

Reply:

Hi, friend. Thank you for your enquiry about contact lenses at first, i have sent a message to your Email to you, please check and replay.
Name:

Louvenia Darosa

2018-10-17 22:23:59

IP: 104.144.183.111

Content:

Hello, interested the contact lenses for brown eyes and Modiano marked cards, price?

Reply:

Hello, friend. Thank you for your enquiry about Modiano cards and contact lenses, we have sent you a Email to you, please check and reply.
Name:

Pritam

2018-10-15 15:31:11

IP: 157.43.98.200

Content:

I'm interested in the contract lens

Reply:

Friend, about the details, we already sent the message to your Whatsapp. Please check and reply, thanks