PTW Marked Cards For Sale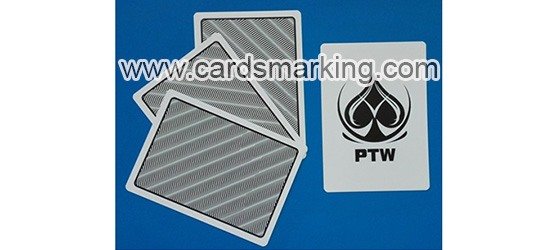 PTW playing cards are 100% plastic poker cards, and the size is poker size 2 jumbo index. Black and red backside color for customers to choose. According to the needs of the Italian market, we sell PTW cards to poker players to play games in casino. This brand of cards is very popular in Italian poker market for their excellent quality and price ratio.
About the best ways to mark PTW poker cards, we always mark blue cards with big invisible ink font in the middle, and mark red cards with small luminous font in four corners. All of the original poker cards in GS marked cards suppliers are marked with infrared invisible ink by the professional printer. We can get very good quality luminous juice marks backside the playing cards. When you see the marking invisible ink cards with naked eyes, the cards are just the same as original cards. But when you see the cards by wearing our invisible ink marked playing cards contact lenses or ultra UV marked cards sunglasses, you can see that there are invisible ink marks on the back of marking PTW playing poker.
With the help of luminous ink PTW marked poker cards and the luminous ink kits viewer, you can always be successful no matter in poker games or in magic shows. Also, you will enjoy your trick with magic luminous marked PTW poker decks.
Product Information
Decks: 1
Size: Poker Size
Index: 2 Jumbo Index
Colors: Red and Black
Material: 100% plastic
Write To Us:markedcardsinvisibleink@hotmail.com
ptw-invisible-ink-marked-playing-cards.jpg
Message
Name:

Franz

2018-12-14 08:38:52

IP: 153.33.43.23

Content:

Hello, I would like to know the price of the contact lenses. Thank you

Reply:

Hello, friend. I have sent you a email to you about the details, please check and reply. Thanks
Name:

Lily

2018-11-26 11:11:08

IP: 117.225.53.133

Content:

How much price power bank scanner

Reply:

Thank you for your inquiry about power bank scanner, we have sent a e-mail to you for the details, please check and reply.
Name:

Jennifer Harding

2018-10-28 01:46:18

IP: 73.112.147.20

Content:

Interested in infrared contact lenses for green eyes. Price please?

Reply:

Hi, friend. Thank you for your enquiry about contact lenses at first, i have sent a message to your Email to you, please check and replay.