Smoke Detector IR Camera Helping In Poker Games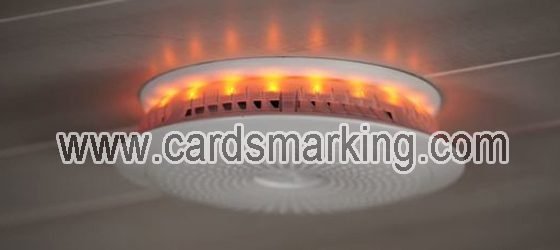 I know that in America, many places will install smoke detectors, such as home, school and some poker club. So, it is ordinary seeing smoke detectors in these places.
After testing, we produced the smoke detector IR camera for cards trick use. How does the smoke detector work? Wireless transmitter issued a wireless alarm signal, notifying the remote receiving host, and pass out the alarm information. The working principle of the infrared marked cards camera is similar to the smoke detector. Wireless transmitter will send the image from the IR camera to the signal receiver and you can see all the marked playing cards on a monitor. The monitor can be a computer, and a smart phone.
Like other IR juiced cards camera, this smoke detector ultimate marked deck camera has its working distance range. Normally, its working distance between cards marking with infrard invisible ink is within 100 meters. But we can offer you the particular reading spy cards system. And to be honest, the more particular of the distance you can us, the clearer camera we can make for you. So, you have better measure the distance between IR camera and your poker table.
The IR camera is installed into the smoke detector, but it will not affect the operation it. So, just enjoy your game.
Product Information
Scanning Distance: About 100m
Scanning Area: About 10cm
Transmitter: 2m
Battery life: 4 hours
Application: Poker Games
Write To Us:markedcardsinvisibleink@hotmail.com
smoke-detector-camera-for-marked-cards-with-infrared-marks.jpg
Message
Name:

Jennifer Harding

2018-10-28 01:46:18

IP: 73.112.147.20

Content:

Interested in infrared contact lenses for green eyes. Price please?

Reply:

Hi, friend. Thank you for your enquiry about contact lenses at first, i have sent a message to your Email to you, please check and replay.
Name:

Louvenia Darosa

2018-10-17 22:23:59

IP: 104.144.183.111

Content:

Hello, interested the contact lenses for brown eyes and Modiano marked cards, price?

Reply:

Hello, friend. Thank you for your enquiry about Modiano cards and contact lenses, we have sent you a Email to you, please check and reply.
Name:

Pritam

2018-10-15 15:31:11

IP: 157.43.98.200

Content:

I'm interested in the contract lens

Reply:

Friend, about the details, we already sent the message to your Whatsapp. Please check and reply, thanks