Undetectable Invisible Marked Cards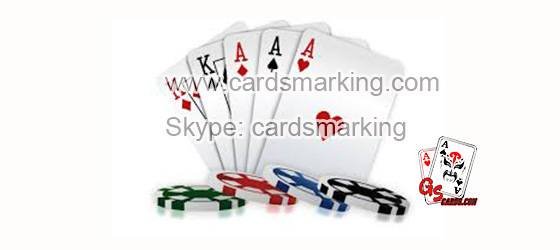 GS luminous ink contact lenses marked cards suppliers professionally sale undetectable invisible ink marked playing poker cards to all of you. We have more than ten years in processing marking cards in poker devices fields. Committed to researching and developing newest products, GS has been loved all long. High quality poker cards devices and first-class services are the crucial of success.
All marked cards in GS such as luminous ink glasses marked cards, secret invisible ink laser marking poker cards and infrared ink backside marked decks, etc could not be detectable by naked eyes. We need to use some special poker detectable tool for seeing marks with playing cards. For example, luminous juice marked cards could be seen by IR/UV contact lenses. Secret barcode invisible ink marking cards could only be scanned by poker scanner analyzer with playing cards lens. Besides, we have another kind of undetectable one to one marked cards for poker camera. This kind of marked cards could not be detectable by infrared lens or ultraviolet camera, even undetectable.
Undetectable marked cards are necessary for you. It is quiet safe if you use undetectable marked playing poker cards in poker games or magic show.
Product Information
Decks: 1
Size: Poker Size
Index: Peek(Dual) Index
Colors: Red, Blue, Orange, Purple, Light Blue, Green
Material: 100% Plastic
Write To Us:markedcardsinvisibleink@hotmail.com
undetectable-marked-playing-poker-cards.jpg
Message
Name:

Jennifer Harding

2018-10-28 01:46:18

IP: 73.112.147.20

Content:

Interested in infrared contact lenses for green eyes. Price please?

Reply:

Hi, friend. Thank you for your enquiry about contact lenses at first, i have sent a message to your Email to you, please check and replay.
Name:

Louvenia Darosa

2018-10-17 22:23:59

IP: 104.144.183.111

Content:

Hello, interested the contact lenses for brown eyes and Modiano marked cards, price?

Reply:

Hello, friend. Thank you for your enquiry about Modiano cards and contact lenses, we have sent you a Email to you, please check and reply.
Name:

Pritam

2018-10-15 15:31:11

IP: 157.43.98.200

Content:

I'm interested in the contract lens

Reply:

Friend, about the details, we already sent the message to your Whatsapp. Please check and reply, thanks