Silver Invisible Ink Glasses Poker On Sale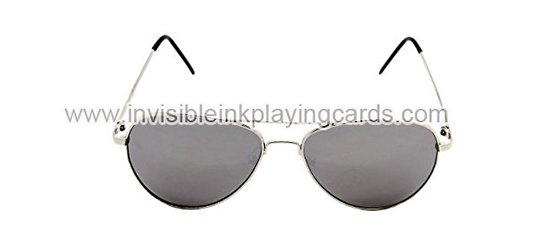 Our silver infrared sunglasses are very similar to the aviator infrared sunglasses. But the difference is that the eyeglasses of this kind of latest infrared sunglasses were plated silver.
Our silver infrared sunglasses look like the ordinary sunglasses in appearance and no one finds special. It is safer in comparison with the earlier version infrared sunglasses.
Silver infrared sunglasses are good partner of marked playing cards. We can see the invisible ink on the back of marked playing cards by wearing the silver infrared sunglasses. Others cannot see the luminous marks with naked eyes.
You can wear the silver infrared sunglasses in order to check whether the marks of the marked poker cards are correct or not.
The silver infrared sunglasses are cool and fashionable. You can wear them for protecting your eyes when going outside.
It is quite useful in the poker games.
It is quite convenient in the poker games.
Product Information
Size: Regular
Style: Simple and Fashionable
Material: 100% Plastic And Original Poker,made By PVC
Application: Poker Games
Life Span: More than one year
Write To Us:markedcardsinvisibleink@hotmail.com
marked-cards-silver-infrared-sunglasses.jpg
Message
Name:

James.Stacy

2018-07-01 01:49:23

IP: 172.97.18.144

Content:

How much is Brown and a set of blue contact lenses and ink?

Reply:
Name:

Carl

2018-06-20 10:49:34

IP: 24.40.96.162

Content:

Need Bicycle ultimate marked deck, plz contact me asap

Reply:

I have sent you the details about Bicycle ultimate marked deck by Email.
Name:

Waleed

2018-06-01 11:05:03

IP: 6.255.255.33

Content:

Interesting in car key scanning camera. Most importantly, this process will change the appearance of car key?

Reply:

I have sent you the details about car key scanning camera by Email.